Volunteering in Calgary
March 30, 2013
By Cody Battershill
Volunteering in Calgary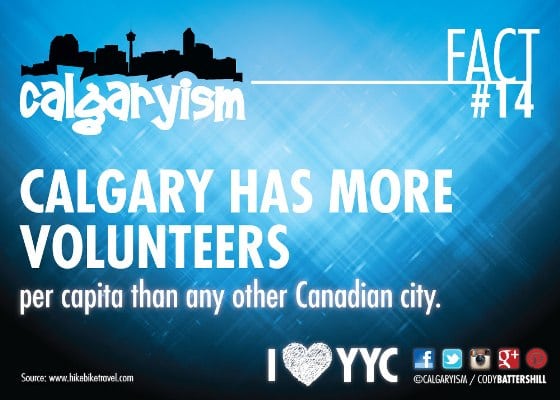 Calgaryism Fact #13
Calgary has more volunteers per capita than any other Canadian city.
Volunteers in Calgary are the lifeline of many public events, activities and entertainment our city is known for. They are outstanding individuals who go above and beyond the call of leadership in our community and should be commended for the work they do.
Volunteers share their time and skills with us and are usually enthused when doing so. Everything they do comes from the heart and it shows in their selflessness, as well as their big smiles.
Without the high amount of volunteers we have in Calgary, events like the Calgary Stampede would not be the same. Here are some volunteer numbers from the Calgary Stampede's website just to give you an idea of how important they really are!!
Calgary Stampede's board of directors are all volunteers

The Stampede itself is a non-profit organization

The Stampede parade is set up by 131 volunteers

It takes about 19,000 hours from these volunteers each year to make things happen

On the day of the parade, 9,000 of those hours are tallied

Numerous parade volunteers have been involved for over 40 years!
Volunteers are a big part of Calgary. Just another huge reason why I love Calgary and everything to do with our amazing city. If you are looking to volunteer this year in Calgary, be sure to check out volunteercalgary.ab.ca for more information.
Thanks for stopping in! Before you go, here are some more Calgaryism facts you might enjoy!