Wami Ootoya (Brentwood) Calgary Japanese Restaurant Review
April 20, 2017
By Cody Battershill
Wami Ootoya (Brentwood) Japanese Restaurant Review

It's always a delight to stumble upon a brand new restaurant like Wami Ootoya; you know, one that you'll be coming back to again. There are few Japanese restaurants in Calgary that have as massive of a selection of ramen, sushi, donburi and everything in between as this place does, and as far as I could tell, it was all high quality food.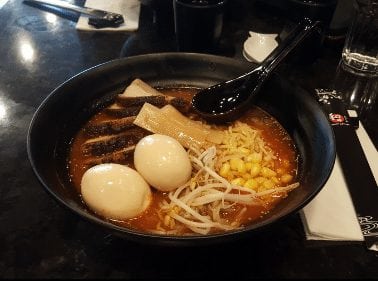 Here's Calgaryism's first restaurant review for Wami Ootoya, a new Japanese restaurant located in the base of University City condos.

*10 rated as best
Location
[mappress mapid="314"]
Atmosphere & Service
Being a new restaurant, the inside of Wami Ootoya does not disappoint. Inside you'll find sleek wood finishings and tiled floors, comfy booth seats for two to eight and even a second level in case the bottom floor fills up. There's also several bar seats along the "bar" section and HDTV's everywhere you look.

You notice that the owners of this place took care and dedicated some serious funds to the decoration and finishings as it really feels upscale and fosters your hunger well.

As far as service goes, our server did well in romanticizing all the menu items we asked about and even made some suggestions based off popular picks. She must have studied the menu well as this was just the second week this place had been open.
Our Food
Sakura Blossom - $13.50 – mango, avocado, scallop, capelin roe, salmon topped with key lime thyme pepper aioli sauce
If you like sushi rolls that don't have an overpowering fishy squishy taste, then this is for you. The salmon is delightfully acquainted by a soft, tender scallop taste which finishes off with a sweet aioli sauce.
Spicy Curry Ramen - $15.00 – house made curry sauce, red prawns, scallops, muscles, onions, mushrooms, bell peppers
The curry taste of this soup isn't too strong but not too soft; it blends perfectly with its seafood ingredients and was somewhat spicy to boot. This is definitely a go-to dish for curry lovers, spicy lovers and for people like me who are just looking for something new.
Spicy tomato ramen - $13.00 – tomato chicken broth, house made "chasu", bean sprouts, soft egg, green onions, seaweed, sesame, bamboo shoots
What I loved about this ramen was its rich, tomato broth that really absorbed into the bowls ingredients. Everything in it, from the chasu to the green onions, were enriched by the savoury tomato taste. This is one of the most unique ramen bowns in Calgary I've ever had!
All-in-all, I'll definitely be heading back to Wami Ootoya the next time I'm in the University area and got Japanese cuisine on my mind. I highly recommend this place to anyone and everyone – check it out!
Wami Ootoya
Address - #130 - 3820 Brentwood Road NW, Calgary, AB
Phone Number – 403-289-8981
 I Love Calgary
Looking for more of the best restaurants, activities, events and everything else to do in YYC? If so, we invite you to join us at Calgaryism on Facebook, Twitter and Instagram and be part of our massive social media community today. We hope to see you there!