10 Ways to Keep Your Home Cool in the Summer
June 3, 2021
By Cody Battershill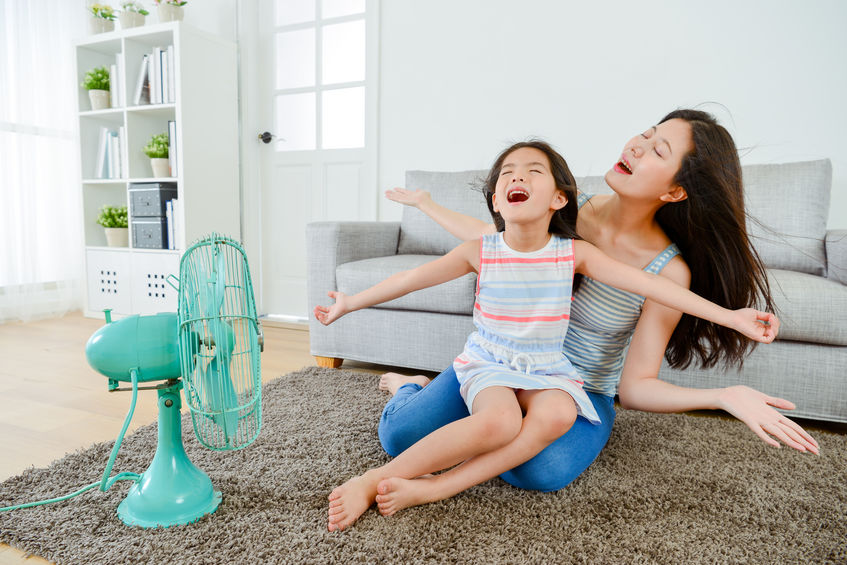 Being from Calgary, I'm used to harsh cold winters and dry but hot summers. That, combined with living in a wide variety of property types over the years, has made me somewhat of a pseudo-specialist when it comes to keeping the temperature in my house moderately low and staying cool throughout the Summer.
And while I enjoy temperatures in the winter more for sleeping (who doesn't like snuggling under warm blankets in a cold room), summertime can make everything from working to cooking at home a bit too hot and clammy to do comfortably.
Luckily, there are plenty of ways you can keep your home cool during the Summer in Calgary – some of which you may have never thought about just yet. Here are several ways you can maintain a comfortable temperature in your home until the seasons change. Also see:
#1 – Try Light-Blocking Curtains
Windows are the number one culprit when it comes to hot summer temperatures on the inside of your home. Heat transfer occurs between the hot glass window and interior air, making for one heck of a toasty home if not covered with blinds. Apparently, up to 30 per cent of unwanted heat is from windows.
Investing in some high-quality blackout curtains will limit the amount of sunlight peeking through your windows and keep your home cooler. Besides, these décor-friendly drapes look great in the living room and bedroom and they also boost privacy help you get a good night's sleep, especially when the sun comes up at around 5 am in Calgary in mid to late June.
#2 – Buy a Portable Air-Conditioner
Portable air conditioners are an excellent way to cool down certain rooms in your home. Just be wary that not all air conditioner brands – despite being of the same "BTU power" rating – may not be as effective or the same quality.
Also, make sure to refer to air conditioner BTU guides to determine what type of air conditioner unit you'll need. For example, if your home bedroom is 400 square feet, you won't want to buy any unit with a rating of less than 12,000 BTUs – it just won't be effective.
#3 – Set Your Ceiling Fan to Rotate Counter Clockwise
Yes, ceiling fans need to be seasonally adjusted, and you'll be glad you did.
Setting the fan to rotate in a counter-clockwise motion will blow air straight down and cause a cool, breezy effect. Crank the fan up to higher rotations per minute if you need more cooling!
#4 – Buy a Programmable Thermostat
Smart thermostats help regulate the temperature of your home even while you're not there. They also help reduce cooling costs by turning your air conditioning (if applicable) off when it gets too cool.
Many homeowners use programmable thermostats to save money on cooling costs during the day and have their humble abode nice and chilly for when they're home from work. It really is a wise investment and can work in the same way but for heating during the winter.
#5 – Switch Your Bulbs

Compact fluorescent lightbulbs cut your electricity costs, but they also cut cooling costs too. That's because they give off very little heat, unlike incandescent bulbs.
Approximately 90 per cent of the electricity used by incandescent bulbs is converted to heat rather than light. That's why if you're looking to keep your home cool in the Summer, you should stay away from these bulbs at all costs!
#6 – Use Window Shades
Tinted or Low-E window films are relatively affordable to buy and easy to install.
Remember that your windows are responsible for roughly a third of unwanted heat entering your home. When combined with blackout shades, this can have a double-whammy effect and cool your home by several degrees on a hot day.
#7 – Clean Your Filters Monthly
Changing your furnace and/or air conditioner filters every month can go a long way in keeping your home nice and cool during the Summer. Portable air conditioners are no different; check the back of the device every month to ensure that its venting system is clear and sucking air efficiently.
Swapping out filters should also save you a few bucks on your electricity bill as these devices won't be working as hard to keep your home cool.
#8 – Open a Window
The simplest trick in the book to keeping your home cool in the Summer is to crack open a window, whether that be on the shaded side of your property or at night time.
Setting up a fan in front of the window will draw cool air into your house. At night, outside air tends to be cooler than on the inside and should draft inwards. Just be sure to close your windows and blinds before things get too hot in the morning.
#9 – Swap Your Sheets
A hot and stuffy bedroom will only be more uncomfortable if you continue to use your winter duvet and bedsheets. While fleece blankets and flannel sheets are good for insulation, cotton or bamboo sheets are your best bet to keeping cool in the bedroom.
Buying pillows specifically designed to keep your head cool will take things a step further. After all, summertime is when a majority of us engage in longer workdays and more outdoor activities, so a better night's rest will ensure you have the energy needed to stay engaged with family and friends all season long.
#10 – Think "Outside" the Box
If you're really, really dedicated to keeping your home cool during the Summer without buying air conditioning, you'll want to start thinking about additions on the outside of your home that can do the trick.
Awnings or trees that shade your windows are a smart purchase as they work similarly to blinds. If you're going for trees, these have also been shown to keep your home better insulated and prevent heat loss during the winter when things get cold.