What is a Chinook? Southern Alberta's Weather Phenomenon!
February 7, 2018
By Cody Battershill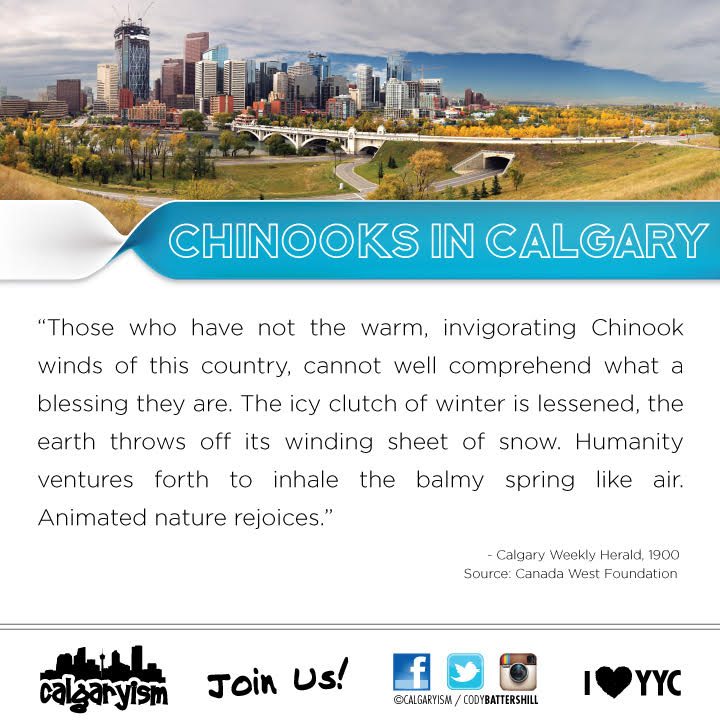 What is a Chinook? Everything You Need to Know
A Chinook is a warm and dry wind originating from the Pacific Ocean which blows eastward over the Rockies, then cools on the mountainous slopes and warms significantly as it blows down onto the prairies.
In Alberta, Chinooks are most common in its southern region of Pincher Creek and Crowsnest Pass through to the Lethbridge areas which experience up to 30 or more every year. The weather phenomenon also occurs in Calgary on multiple occasions each year and can also happen north of Red Deer but not nearly as much.
Chinook Quick Facts
- Rapid and substantial changes in temperature
- Rapid decrease in air humidity, leading to increased fire hazard
- Snow and ice may melt due to a several degree Celsius change in temperature
- Strong, warm winds that can sometimes reach dangerous speeds (120+ km/hr)
- Some people may feel a sense of relief from the cold physically and psychologically
- Others experience "Chinook headaches/migraines" due to the rapidly changing weather
- Chinook wins usually occur between November and May in Southern Alberta
- Chinooks can happen anywhere leeway of mountain ranges: Italy, Germany, Argentina, Austria
How to Recognize Chinooks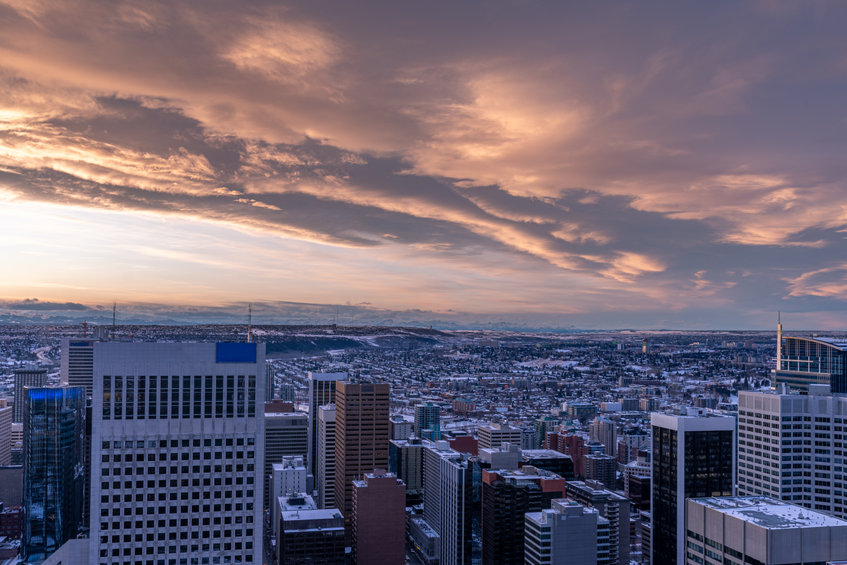 Chinook Arch Over Calgary at Sundown
Apart from the rapid temperature change they bring, Chinooks are most easily recognizable by the "Chinook arch" they form. A Chinook exhibits a long line of clouds spanning parallel to the Rocky Mountains with a definitively clear sky to the west and cloud to the east.
At times these arch's can seem like an imposing storm cloud, but in reality, they are winter's "arch" nemesis. They can make for some amazing sunrise and sunsets in Calgary and throughout other parts of Southern Alberta that experience the weather phenomenon.
Southern Alberta & Chinooks

When the first settlers of what would become Calgary arrived and established a North West Mounted Police outpost at the congruence of the Bow and Elbow Rivers, little did they know that they picked the perfect location.
This spot would experience Chinook winds every so often throughout winter which had the ability to change a cold winter's day into a warm one very quickly and melt a substantial amount of snow within a matter of hours.
Historical Chinooks:
On November 19th, 1962, Chinook winds with hurricane-like speeds overtook Lethbridge with gusts of up to 171 kilometres per hour
In 1962, a Chinook in Pincher Creek, Alberta, caused a temperature increase of 41 degrees Celsius in only 1 hour
On February 7th, 1964, a Chinook caused the temperature in Calgary to rise 28 degrees Celsius while the humidity dropped by 43 percent
On January 11th, 1983, another Chinook caused Calgary's weather to rise from -17 degrees to +13 degrees Celsius in just 4 hours
In February of 1992, the weather phenomenon caused temperatures over Claresholm, Alberta to increase to 24 degrees Celsius - one of the highest ever recorded temperatures for the month in Canada
I Love Calgary
As a born and raised Calgarian, I have become used to the warmth that the Chinook winds bring. Chinooks provide me and many people in our city with relief from the cold sub-zero temperatures of Calgary's winters, just one of the things I absolutely love about YYC!
Join Us
Want to learn more about the best things in the City of Calgary? Come and join us at Calgaryism on Facebook, Instagram and Twitter today and see daily updates via your live social media feed today. We hope to see you there!