What is a Green Home?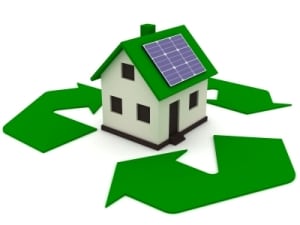 A green home usually includes an efficient energy system to reduce its environmental footprint making it economically friendly and viable in the process. A green home / eco-friendly home…
Consumes energy efficiently

Reduces the use of natural resources

Has improved indoor air quality and ventilation
While a residence might meet all of these qualifications, the true operating force behind any green home is the people living within. Typically those who have invested their time into finding a green home are willing to live a pro-green lifestyle, if not so already. Check out these 20 Ways to Save Energy!
Many Calgary home builders include pro-green features in their new homes as home buyers are becoming increasingly aware of society's effect on our planet and are looking to reduce their environmental footprint. If you are looking for information on green home builders in Calgary, please contact me anytime and I will be happy to provide you with this information. Learn more about Cody Battershill…
Benefits of Living in a Green Home in Calgary
Living in an eco-friendly has many benefits. They are better for your pocket book, for the environment and in some instances for your health. They can offer substantial financial, health and other benefits including…
As the market demand increased for green homes in Calgary, purchasing a green home is a wise investment as it could add value in the future

Green homes are usually built with high-end materials that increase lifespan and reduce the amount of repairs over the long-haul

Efficient insulation, windows, lighting, appliances, ventilation systems and resource consumption means lower bills

Less energy consumption means less money spent on bills and more money in your pocket

Canada Mortgage and Housing Corporation is offering savings for new home buyers choosing to take advantage of their BUILT GREEN Home program. Visit www.builtgreencanada.ca for more information!
Common Misconceptions about Green Homes
– Green is Green –
The terms "green" and eco-friendly are being used widely these days to market New Calgary Homes. Different builders have different interpretations of what a green home is and some might have a higher standard for these types of features than others.

As an experienced Calgary REMAX Realtor with a Green REALTOR® Designation, I would be more than happy to help you find a home with all the environmentally friendly features you desire. I know fact from fiction when it comes to green homes!
– They are Expensive –
While some pro-green renovations and new homes can more expensive than a traditional home, it isn't always the case. Many home builders are now integrating green features into their homes to begin with and in the long run, buyers will save money from reduced costs for resources.

Finding an energy efficient home can sometimes outweigh a higher-price tag, especially since the cost for finite natural resources that run our homes has increased over the years.
– They Look Strange –
Some of us might have had an encounter in the past with an eco-friendly home that we didn't like the look of. Not to worry, green homes in Calgary look very much like any other home; they just have been built with key features that make them more friendly to the environment.
– They are Uncomfortable –
Another myth. Green homes can be built just as comfy as a traditional home. Also, energy efficient appliances and toilets work just as good as regular ones, if not better than. Modern technology at its finest!
Questions about Green Homes in Calgary?

…from an experienced Green REALTOR®. I have intimate knowledge of green properties here in Calgary and would love to share it with you! Call me direct at 403-370-4180 or message me below.