When Was the City of Calgary Founded?
February 14, 2019
By Cody Battershill
When Was Calgary Founded? In 1875...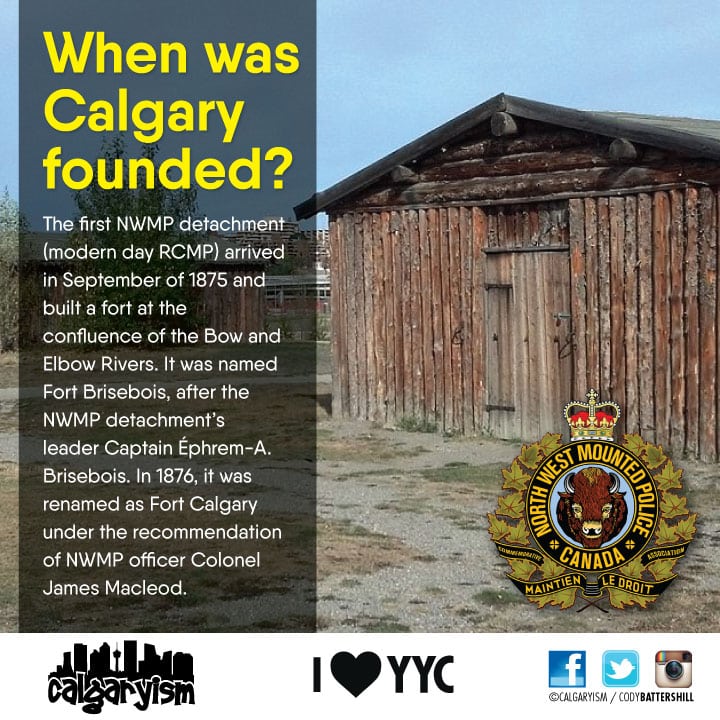 Calgary, Alberta, Canada, was originally founded in 1875 by a detachment of North West Mounted Police (NWMP). This group of 150 men marched west across the prairies from Fort Dufferin, Manitoba, arriving in the summer of 1874.

After staying the winter in harsh and unfamiliar territory – with the help of the Blackfoot - they began building Fort Calgary in September of 1875 at the confluence of the Bow and Elbow Rivers.
Colonel James F. Macleod
After Calgary was founded, it was named Fort Brisebois, after the NWMP detachment's leader Captain Ephrem-A. Brisebois. Fort Calgary was renamed as such in 1876 under the recommendation of NWMP officer Colonel James Macleod.

James Macleod adopted this name after his home in the Scottish Highlands. Calgary Bay was a beautiful cove not far from where he lived, which according to the City of Calgary is what its name takes after.
Treaties with First Nations
Fort Calgary's position was of strategic importance for the Government of Canada. It was part of a larger scheme to bring Canadian sovereignty, law and order to the west by getting rid of American whiskey traders.

This was because Canada wanted to pave the way for treaties with Aboriginal communities. Settlements like Calgary weren't able to be founded unless these treaties went through.

Also, because of the the robe trade on the western prairies, buffalo herd populations diminished to a point where there were few left.

As a result, the government wanted to repopulate the plains with cattle during colonization and open the region to western-style ranching.
Canadian Pacific Railway Arrives
It wasn't until 1883 that the transnational railway would arrive in Calgary. Afterwards, many pioneer ranchers poured into the area looking for the next great opportunity in the western prairies.

In 1884, the first population boom was complete. With a population of about 4,000, Calgary was officially proclaimed a city not even 10 years after being founded.

Calgary, Alberta, was officially incorporated as a city not a decade later - in 1984.
Calgary Today

Ever since the City of Calgary was founded, it has grown to be Canada's third largest city with a population of 1,239,220 people (2016).

Often enough, this growth is contributed to its near-mountain location as well as the economic opportunities that present themselves in the city and province.

Let's not forget that the city has been named as one of the top 5 most livable cities on earth by the Economist Intelligence Unit's Global Livability Survey for 10 years in a row!

This index uses indicators such as healthcare, education and infrastructure to determine its rankings for more than 140 cities worldwide!
Learn more about YYC:
I Love YYC!
Looking for more of the best local activities, restaurants, events and everything else there is to do with YYC? If so, we invite you to join us at Calgaryism on Facebook and Instagram to join the community today! We hope to see you there!