Who Was Guy Weadick? A City Kid Turned Cowboy…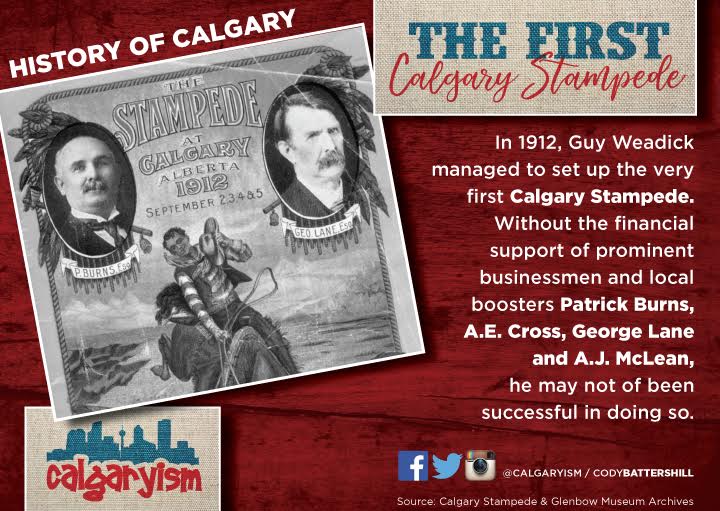 Who created the Calgary Stampede? Did a bunch of cowboys way back when get together one day and decide to create what would become one of the greatest and most visited outdoor rodeos in the world?

If you would call an American city kid turned ranching entrepreneur and a band of inspired businessmen cowboys, then you could say so! But that's not necessarily the full tale of Guy Weadick and his inspirational story as the founder of what is now called the "greatest outdoor show on earth."

So who was Guy Weadick exactly and what was he all about? Read on…
Early Life
Born in Rochester, New York in 1888 to an Irish family, Guy Weadick became captivated by the cowboy lifestyle portrayed by pop culture growing up. He wanted to learn what being a cowboy was all about – from real cowboys – so he headed west.

He pursued his newfound interest by working on a handful of ranches in the USA until he was presented the opportunity to perform on the Miller Brothers' 101 Ranch Wild West Show based out of Oklahoma.

As an employee of the Miller Brothers' 101 Ranch, Guy learned the ins and outs of showmanship and eventually became quite popular with the crowd because of the impressive displays he put on show as a trick roper.
Flores La Due
Weadick ended up travelling to many places including Chicago, Illinois, where he first met Flores La Due (his future wife). Named at birth as Grace Maud Bensell, Flores was similar to Guy in the fact that she also left home as a teenager to pursue her passions. At the time she was also a trick rider with a different wild west show.

It seemed a match made in heaven – and no doubt it was given what we know about these love birds today. After 5 weeks of courtship, Weadick and La Due married in 1906 and began their lifelong partnership.
1908 – Dominion Exhibition
It wasn't until 1908 that Guy Weadick would first visit Calgary as part of the Miller Brothers 101 Ranch Wild West Show. The group performed at the Dominion Exhibition, a travelling fair which was awarded to Calgary by the federal government.

Apart from the Miller Brothers 101, there were many other international entertainment groups that came to perform in the newly built Industrial Exhibits Building, Victoria Park Grandstand and barns. These buildings were constructed using funds provided by the federal government.
1912 – The First Stampede
It wasn't until 1912 that Guy Weadick would return to Calgary. This time, instead of coming as a performer he was much more focused on an entrepreneurial endeavor; to find a home and financing for an event that would celebrate the culture and history of the old west.

E.L. Richardson, manager of the Dominion Exhibition, knew exactly who Guy could talk to. He introduced Weadick to Patrick Burns, A.E. Cross, George Lane and A.J. McLean, prominent businessmen and local boosters who would become known as the "Big Four."
They saw Weadick's vision, gave him $100,000 dollars to put towards an event that they requested be the "greatest thing of its kind in the world." This reflected the optimism that many Calgarian's had about the future of the region at the time and gave Weadick the resources to set up the very first Calgary Stampede.

Little did Guy Weadick know that what he set out to do would all come true with hard work and dedication. He stayed true to his ambitions despite there not being another Stampede event until 1919.

During this 7 year lull, he continued promoting his own wild west shows outside of Calgary in places such as Winnipeg and New York, but without as much success as he had back in Alberta.
Late Life
In 1932, Guy decided to give up his role running the event and move onto other things in life after somewhat of a falling out with the Stampede bosses. A long estrangement between the founder and head honchos ensued for 20 years, until in 1952 they finally invited Weadick back to attend the parade as an honoured guest.

In 1953, Guy died from a heart attack just two years after Flores La Due, the love of his life, died of heart failure in 1951. A broken heart? Quite possibly.
Lasting Legacy
Today, Guy Weadick's legacy as the founding father of the Calgary Stampede lives on not only through the "greatest outdoor show on earth" which attracts more than 1 million visitors every year, but also in the local community through awards, dedications and institutions that are all named after him.

His dedication to making the Calgary Stampede happen despite the adversity he faced should be a reminder to us all of what hard work and determination can do to help you accomplish your hopes and dreams.

What he did more than a century ago embodies the very spirit of entrepreneurialism in Calgary today, a city where only the sky is the limit!

Learn more about another important figure in Calgary's History: Colonel James F. Macleod today!
More History of Calgary
Want to know more about YYC's past? See more at History of Calgary – Then & Now comparisons today!
History of Calgary – 1885 vs. 1912
History of Calgary – 1928 vs. 2018
History of Calgary – 2000 vs. 2020
I Love Calgary
See more History of Calgary and everything else to do with this amazing place some of us call home at Calgaryism on Facebook, Instagram and Twitter to stay updated via your live social media feed today. We are looking forward to seeing you there!