Buk Chang Dong Soon Tofu Korean Calgary Restaurant Review
May 19, 2019
By Cody Battershill
Buk Chang Dong Soon Tofu Korean Restaurant

With such a long name, this new Korean restaurant on Macleod Trail and 50th Avenue SW is somewhat hard to find. A Google search of "Korean restaurants on Macleod Trail" didn't help me find it, nor did any other related keyword search terms you would expect.

After a friend told us about this "excellent Korean restaurant," we decided to give it a shot. We headed there without any Google Map directions. It wasn't that tough to find though since we were told it was "beside the Carl's Jr. on Macleod." Good enough for us!

We absolutely loved Buk Chang Dong Soon Tofu Korean Restaurant for a few reasons. Here's Calgaryism's ratings for this awesome  Korean restaurant in the southwest inner city:

Atmosphere: 9 / 10
Service: 8 / 10
Food: 8 / 10
Cost: 10 / 10
Overall: 8.8 / 10

*10 rated as best
Location
[map src="" width="100%" height="350px"]
Just a heads up for anyone going to Buk Chang Dong Soon Tofu Korean Restaurant:

Beside Carl's Jr. on Macleod Trail & 50th Avenue SW
Just south of Marquee
Just north of Chinook Mall
Atmosphere & Service 
Inside Buk Chang Dong Soon Tofu Korean Restaurant you'll find a spacious seating arrangement and contemporary décor. Booths will fit four to six people comfortably, and there's more than enough space that you probably won't run into any line-ups.

Our service was excellent and so was the run down of the menu. Any questions we had about the bulgogi, for example, were answered with a well-versed "romantic" description by the server who seemed to be one of the owners.

We came in just before close (at 9:30pm nightly), and there were only two other tables. Our drinks were refilled a bit slow given the volume of customers inside the restaurant, but they were preparing to close so we didn't mind too much.
Our Food
Just a quick note. We didn't write down the prices for each of these dishes, but what we can tell you is that they're between $13 and $17 each for main dishes and around $7 for most appetizers.

For good Korean food in Calgary, these prices were amazing to say the least!
Fried Dumplings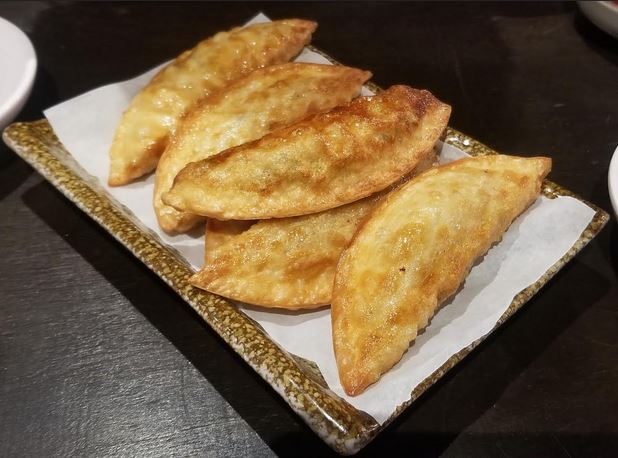 Tellingly homemade by their elongated shape, these were fried to a perfect crisp. Just for the record, these might have been the best fried dumplings I've had in the city.

They are served with your usually dumpling sauce: soy, vinegar, chili oil and sesame oil. Be careful though, they are big enough to kill your appetite for the main course.
Soft tofu stew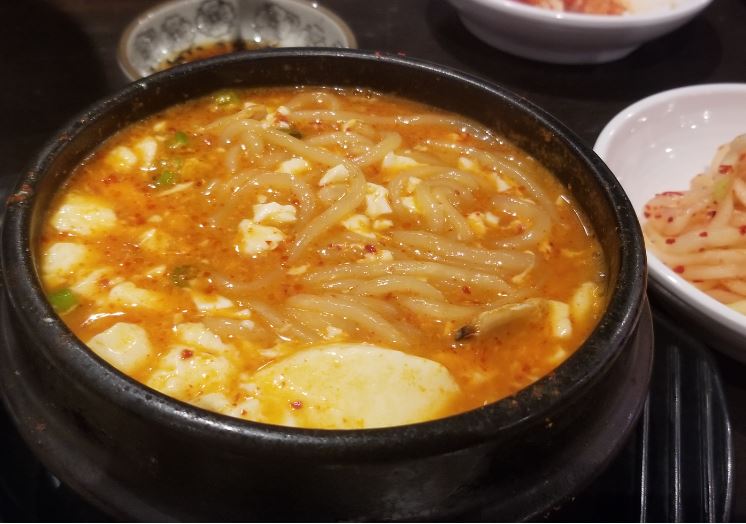 We thought this dish was more like a soup, but no matter as it was delicious. The bowl was stacked with tofu, noodles and some veggies that were all marinated by the spicy Korean broth.

This stew was the perfect topping addition to the purple sticky rice that came with our food. Radish, kimchi, beans and other smaller dishes also complimented the spicy broth and tofu well by changing up the texture and palette after a bite or two.
Pan-fried bulgogi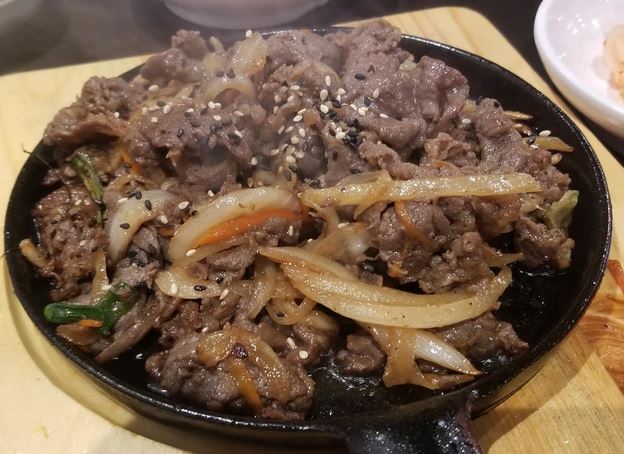 What turned out to be our favourite dish of the night was served sizzling on a hot plate. It comes with white onions and diced carrots, as well as a few extra spices that made this beef bulgogi dish addictive.

We highly recommend this dish to anyone who loves beef with accents of garlic, ginger, pepper and other fine ingredients that make this dish just perfectly sweet to taste.
Final Word
Overall, we really liked Buk Chang Dong Soon Tofu Korean Restaurant on Macleod Trail SW. For two people, our total bill was under $40 which is basically unheard of if you eat out Korean food a lot in Calgary.

We highly recommend this place not just for the excellent prices, but also because the food is homemade with every bite better than the last. We also love seeing small businesses like this one in Calgary succeed, so why not check them out! Also see:
Buk Chang Dong Soon Tofu Korean Restaurant
Address - #106, 5211 Macleod Trail SW
Phone Number – 403-719-1311
I Love Calgary
Looking for more of the best restaurants in Calgary? See our best in Calgary lists here and get started discovering some more great places to eat in and around the city today!