Calgary Real Estate Market Update December 2018
January 2, 2019
By Cody Battershill
Calgary Real Estate Market Update for Dec. 2018
- Economy Continues to Affect Market -

Oversupply has continued to affect Calgary's residential market in December, with overall benchmark prices dropping by 1 percent month-to-month and 3 percent year-over-year. This trend is in line with that seen in November of 2018 as well.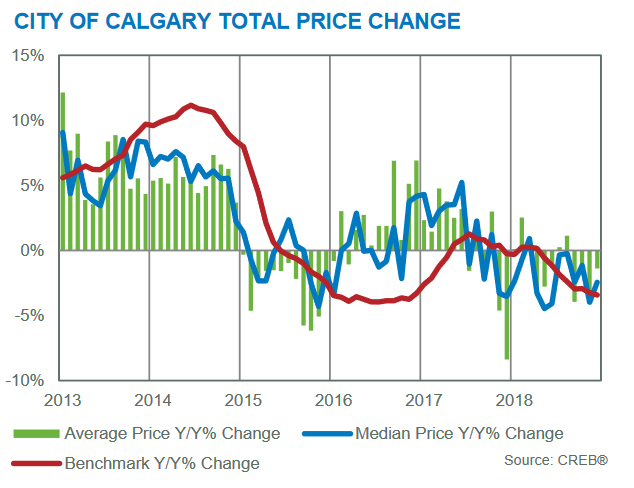 Persistently low growth in new, well-paying employment opportunities and changes to lending rules and regulations have impacted resale market activity. This has contributed in elevated supply and downward pressure on benchmark prices for all sectors.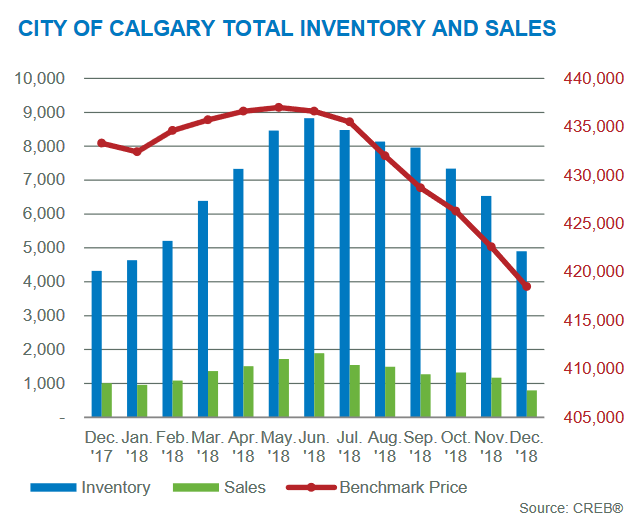 Many people see Calgary's residential problems as parallel to Alberta's pipeline woes. With many high paying jobs lost since 2014, there's been a downward trend of demand for home ownership in the province as many just simply cannot afford buying property at the time.
Both buyers and sellers have been forced to adjust their expectations throughout 2018. The market, currently far into buyers' territory, gives buyers lots of choice and flexibility in negotiations. The same, however, cannot be said for sellers, where significant price drops to get a deal done isn't uncommon in today's market.
December 2018 Real Estate Market Facts & Statistics
794 total units sold, 21 percent lower year-over-year.
16,144 total year-to-date sales, 14 percent lower than in 2017 and 20 percent lower than the 10-year average
4,904 total inventory units in December, well above last year's levels and 30 percent higher than December's average.
5.2 average months of supply throughout 2018, contributing to a price drop of 1.5 percent across all sectors
City-wide benchmark prices remain 9 percent lower than highs seen in 2014
Inventory gains largely a result from attached and detached product being listed on the market
Attached Homes
3,536 total units sold, 15 percent lower than in 2017 and 14 percent lower than the 10-year averages
Some product types, like the row sector, saw decreased listings because of lower sales activity
Townhome new listings dropped by 4 percent, while semi-detached new listings increased by almost 15 percent in 2018
$397,500 semi-detached benchmark price, 0.8 percent lower month-to-month and 3.8 percent lower year-over-year
$288,400 row benchmark price, 1.5 percent lower versus last month and about 4 percent lower year-over-year
Row prices remain 2 percent lower than in 2017 and 10 percent lower than the 10-year average
Detached Homes
9,945 total units sold city-wide, 21 percent lower than typical sales activity throughout the year
Higher detached inventories resulted in oversupply for most of 2018
$481,400 detached benchmark price, 1 percent lower month-to-month and 1.5 percent lower than in 2017
Prices have dropped across all sectors of the city, with largest declines seen in North, North West and North East districts
Apartments
2,663 total sales in 2018, 22 percent lower than the long-term average for Calgary
Condo sector has been struggling with oversupply since 2015 which continued through to the start of 2019
Supply has been easing, with 1,584 total units on average for sale throughout the year. This is 1 percent lower than in 2017
$251,500 condo benchmark price, more than 2 percent lower when compared to December of 2017, 3 percent lower year-over-year and 14 percent lower than the long-term averages

*Sourced from the Calgary Real Estate Board (CREB®)
Ask a REALTOR®
Calgary's residential market in December is as dynamic as it gets, especially due to the tough provincial economy of today. It's important that you consider getting the best advice when making a move as all sectors aren't necessarily acting the same as the other.

It's highly recommended you contact a REALTOR® to discuss your specific real estate goals. As professionals in the industry who typically work full-time as real estate agents, they should be able to guide you towards your goals while meeting your wants, needs and budget on your time frame.

Don't know an agent who can help you? Check out our Calgary REALTOR® Interview Guide to see what questions you should ask an agent!

As an experienced real estate agent and REALTOR® with REMAX in Calgary, I would also be very happy to take any questions you have and discuss your real estate goals. That's why I am here!
Real Estate Market Updates
For more month-to-month updates on the local residential market, check out our Calgary Real Estate Market Updates today.
Questions about Calgary Real Estate?

As a top-producing REMAX real estate agent in Canada (2013, 2014, 2015h) and experienced REALTOR® in Calgary, I guarantee to provide the best service and advice the industry has to offer while making sure all your needs are met along the way.
Contact me anytime direct at 403-370-4180 or send a message below for a quick, if not immediate response. I am looking forward to helping you accomplish your real estate plans!

[gravityform id="35" title="false" description="false"]