Calgary's Best Breakfast Spots
October 18, 2011
By Cody Battershill
Find the Best Calgary Breakfast and Brunch at These Restaurants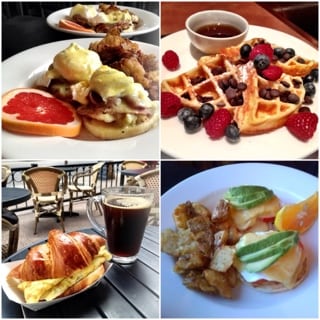 There isn't anything quite like a good breakfast or brunch. From the usual suspects like Phil's, Humpty's, Denny's and Ricky's to some of the more unique places like Holy Grill, MONKI and Red's Diner, Calgary is full of awesome breakfast and brunch restaurants waiting to serve you the most important meal of the day.
I must say, I like to explore tastes when it comes to my absolute favourite meal, so I try my best to check out all the different breakfast and brunch restaurants in and around Calgary.
Below is a compilation of all the best Calgary breakfast and brunch restaurants I have been so fortunate to discover and eat at over the years.
Please leave us a comment below and share with us your absolute best Calgary breakfast and brunch restaurants - we will add them to the list!
Downtown Calgary
Holy Grill 
Everything under $10
827 10th Avenue SW
403-261-9759
The best Calgary has to offer!
Cucina
$20+ plus per person
515 8th Avenue SW
587-353-6565
Thomsons Restaurant

$23-28 per person
700 Center Street SE
403-717-1234
Breakfast buffet and Sunday brunch
The buffet is amazing! Great ambiance and decor
Rimrock (Brunch)
$25+ per person
133 9th Avenue SW
403-262-1234
Beltline
Galaxie Diner
$10-15 per person
1413 11 Street SW
403-228-0001
Owners of Belmont and Galaxie Diner - both incredible breakfast brunch spots
Bumpy's
$10 per person
1004 8th Street SW
403-265-0244
Craft (On Sundays)

$20+ per person
345 10th Avenue SW
403-514-2337
Phil's Uptown 17th Avenue
$10-$15 per person
936 16th Avenue SW
403-244-1850
MONKI Breakfastclub & Bistro
$10 to 20 per person
1301 10th Avenue SW
587-352-7131
Briggs
Brunch only
$10-$15 per person
100 - 317 10th Avenue SW
587-350-5015
Reds Diner
$15 per person
1415 4th Street SW
403-246-3448
Farm
Brunch only
$10-15 per person
1006 17th Avenue SW
403-245-2276
Laurier Lounge
$10-15 per person
1111 7th Street SW
403-228-3771
Eau Claire
1886 Buffalo Café
$10-15 per person
187 Barclay Park SW
403-269-9255
Q haute (Sunday's)
$25 per person
100 La Caille Place SW
403-262-5554
Stephen Avenue
Metropolitan Grill  (Brunch)

$15-25 per person
318 8 Avenue SW
403-263-5432
Bridgeland
Diner Delux

$10-15 per person
804 Edmonton Trail NE
403-276-5499
OEB Over Easy Breakfast
$10-15 per person
824 Edmonton Trail NE
403-287-3447
Blue Star Diner
$10-20 per person
809 1st Avenue NE
403-261-9998
Inglewood
Kanes Harley Diner
Under $10 per person
1209 9th Avenue SE
403-269-7311
 Fine Diner
$15-$25 per person
#4 - 1420 9th Avenue SE
403-234-8885
Eat Eat
$10-15 per person
1325 9th Avenue SE
403-532-1933
Marda Loop
Temporarily Closed - Belmont Diner
$10-20 per person
2008 33rd Avenue SW
403-242-6782
Southeast
Cora's Breakfast and Lunch
$10-15 per person
4600 130th Avenue SE
403-265-7545
Southwest
Ladybug Bakery and Café

$10-15 per person
2132 10 Aspen Stone Boulevard SW
403-249-5530
Pfanntastic Pannenkoek Haus
$10-15 per person
403-243-7757
2439 54th Avenue SW
1600 Weekend Brunch
$10-20 per person
403-457-4287
1600 90th Avenue SW
Northwest
Vendome Cafe
$10-20 per person
940 2nd Avenue NW
403-453-1140
Dairy Lane Café
$10-15 per person
319 19th Street NW
403-283-2497
Nellies in Kensington

$10-15 per person
1414 Kensington Road NW
403-270-0173
NOtaBLE
Brunch only
$15-20 per person
4611 Bowness Road NW
403-288-4372
China Town
Silver Dragon (Dim Sum)
Under $10 per person
106 3rd Avenue SE
403-264-5362
*Information and prices are provided as a guide 
[pb_vidembed title="Best Calgary Breakfasts Video" caption="" url="http://www.youtube.com/watch?v=RkynGDTU1-Q" type="yt" w="560" h="385"]
What is your favourite place to grab breakfast around Calgary? Leave a comment and it will be added to the list!