7 Crucial Steps to Take Before Buying Your First Home
May 9, 2022
By Cody Battershill
7 Important Steps for First-Time Buyers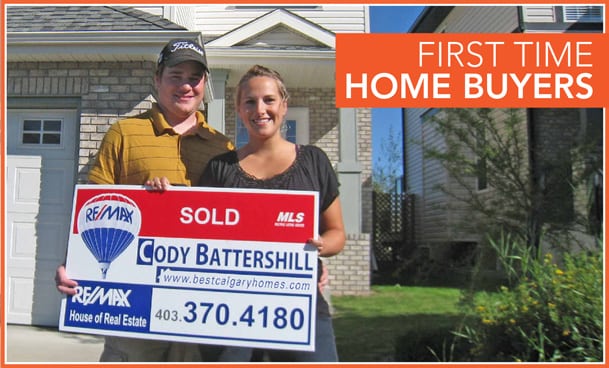 So you're tired of renting out and want to live in a home you can truly call your own. Or, perhaps bank interest rates are low and it's just too good of a deal not to buy a house given current market conditions.
Whichever the case may be, remember that just because you've decided to buy a home for the first time doesn't mean you're out of the wilderness yet. First-time buyers who aren't ready for their first real estate transaction find out that the process is very detail-oriented rather quickly.
Hence, it's best to do as much research as you need to prepare yourself accordingly for your first-time real estate purchase. Decisions based on ample information are the best kind you can make, and you'll typically be more satisfied with your purchase overall by doing the prep work necessary, nine times out of ten.
Along the way you will need expert advice from a real estate professional, one who knows the market inside and out and can help reduce your stress levels by making it as simple and as straightforward as possible.
As a team of highly experienced REALTORS® in Calgary, we'd like to share with you some of the most important steps to take before buying your first home. Also see:
Tip #1 - Follow the "five-year" rule
If you can't commit to staying in the same home for at least five years, then maybe it's not the right time to buy your first property. The same goes for your community; for example, if you think that a downtown community will only be good for the next year or two, then it may not be the best place to buy.
The costs of buying and then selling soon afterwards can add up quickly due to a number of reasons, one of them being stringent mortgage requirements (which are changing all the time) in addition to several other potentially unforeseen factors.
Before making a decision to buy, ensure that you have given some serious thought to your financial and future plans and that you can commit to staying for at least two to five years.
Tip #2 - Get mortgage pre-approval
Mortgage pre-approval is crucial so you're not only aware of what price range to browse, but also what you are comfortable with spending.
Additionally, mortgage specialists should be aware of any government grants or programs you qualify for based off your financials. For example, the Canada's federal government helps first-time buyers out through the RRSP Home Buyers Plan.
Other benefits of having a mortgage pre-approval include giving sellers confidence with your offer while strengthening your negotiating position with an idea as to how much leadway you have.
You will also be made fully aware of what down payment is required for your transaction to go through. Also see:
Tip #3 - Prepare for additional costs
The cost of owning a home or condo is more than just your mortgage payments. There are other expenses to consider and factor into your budget like insurance, property taxes, maintenance and condo fees to name a few examples.
You will also want to consider amenities and lifestyle choices such as television, internet, home phone and possibly a home alarm system to name a few more.
Write down the cost for each of these amenities on top of your mortgage and determine if you'll have enough money left over for savings and other day-to-day costs. Also see:
Tip #4 - Don't do it all alone
You could browse the internet every day for hours upon end and visit all the open houses you find. You could do research all day and try to do the transaction on your own.
But why? Is this an efficient or effective way to buy your first home? Not by any means, especially considering that REALTORS® are typically paid by commission from the sellers' home!
Therefore, it's highly recommended that you use a professional real estate agent and REALTOR® to help guide you towards a successful purchase, someone who can take care of all the details for you and go the extra mile with your best interests at heart.
Don't sell yourself short! Get an expert opinion from an agent who will make sure to guide you every step of the way while also making the process nearly, if not entirely stress free! Save yourself both time and hassle by hiring a trusted real estate agent!
Tip #5 - Get a home inspection service
It's absolutely critical you have a professional home inspection and / or condominium document review when buying your first home. Why, might you ask?
For starters, you'll gain peace of mind knowing you are purchasing a good property and didn't miss something costly to repair or fix.
A proper home inspection can save you huge headache and financial loss down the road. Learn more about these essential services, of which your REALTOR® should be able to refer you to if necessary:
Tip #6 - Be patient with the process
Buying your first home is an exciting endeavour to say the least, not to mention it may be ne of the most memorable and largest purchases you could make in your lifetime.
With that said, the key to avoid regret with the purchase or getting a case of "buyers' remorse" is to be 100 per cent happy with your decisions every step of the way.
Accomplish this by acquiring a real estate agent and REALTOR® who will go the extra mile to help you along the way. Another part of it is being as patient as possible in your search; wait for the right home, the right time and the right price.
Tip #7 - When in doubt, sleep on it
If you are unsure of a particular property or something else related to your transaction, take some time, don't rush, and don't let anyone push you to move forward or make a decision that's not in your best interest.
Sleep on your decision and take extra time to think about it. Step back, relax, and evaluate every option from as many different lenses as you can.
For a look at general steps during the entire home buying experience, be sure to check out our 5 Step Guide to Buying a Calgary Home. It is very easy to follow and will explain things even further.
Questions about Calgary Real Estate?

Have questions about the home buying process? We would love to answer them for you! Call us directly at 403-519-0495 or contact us anytime and we'll be happy to assist you. We are looking forward to helping you accomplish your first-time home buying goals!