Ruth's Chris Downtown Calgary Restaurant Review
February 16, 2019
By Cody Battershill
Calgaryism's Restaurant Review for Ruth's Chris

Over the years I've been to this outstanding restaurant several times and realized I've never gotten to writing a review. If there's any restaurant in Calgary that deserves to be recognized for its outstanding food and service, it's Ruth's Chris.
Located in the base of the Calgary Tower, Ruth's Chris is one of the ultimate destination in for steak and seafood dishes. A bit on the pricier side, however, it's well reserved for special occasions like Valentine's Day or birthdays.

Atmosphere – 9.5/10.0
Service – 9.0/10.0
Food – 10.0/10.0
Cost – 5.0/10.0
Overall – 8.4/10.0

*10 rated as best
Ruth's Chris Location
[map src="" width="100%" height="350px"]
Found on the second floor at the base of the Calgary Tower, Ruth's Chris is open after 5:00pm nightly. Finding parking on the street can cost you money (between 5:00pm and 6:00pm) and is sometimes tough to find.

Thankfully, parking is available in the Palliser West Parkade and Ruth's Chris will pay for it as long as you tell them on your way out!
Ruth's Chris Atmosphere
Inside of Ruth's Chris second-floor venue you'll find a contemporary dining space with a classical twist that makes for an elegant dining experience. You really feel like you're in a high-class restaurant with the attention to detail you'll notice in the finishings and furniture around the restaurant.

The north side of Ruth's Chris interior overlooks 9th Avenue and Centre Street which makes for some decent views. The south side consists of smaller rooms that are typically used for private functions, although they are utilized to make more room for special events such as Valentine's Day.

If you can, we recommend requesting a table on the north side with a view. The back rooms have no windows and can feel a little bit "boxed in" so to speak.
Ruth's Chris Service
At a steak / seafood house like Ruth's Chris, you expect the best when it comes to food, ambiance and service. Our server didn't disappoint with his adept romancing skills that led us to choosing two dishes we weren't sure about based on his recommendation. He also had a busboy helping to fill up drinks and remove used dishes from the table which was great.

All-in-all, we loved the atmosphere and service. Come to think of it, we have always loved both of these every time we've visited Ruth's.
Our Food
Mushrooms stuffed with crabmeat - $20.00 – broiled mushrooms stuffed with crabmeat and topped with romano cheese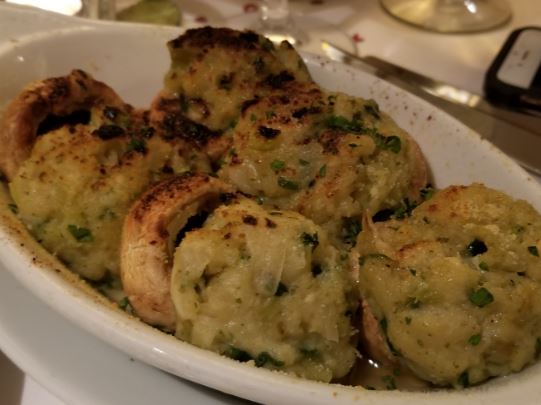 Five large mushrooms are stuffed to the brim with crab meat mixed with a tasty herbal blend. Topped with melted cheese, these mushrooms are the perfect appetizer before the main course.
Sizzlin' blue crab cakes - $26.00 – two jumbo lump crab cakes with sizzling lemon butter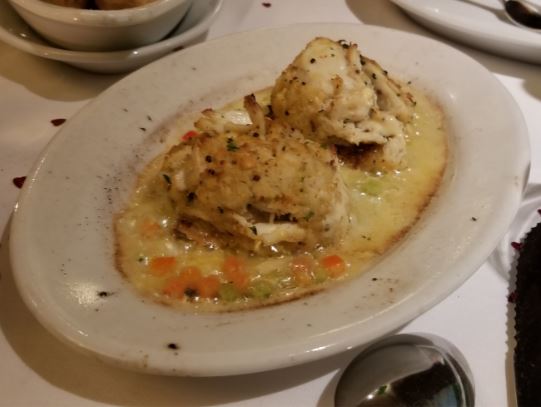 On Ruth's Chris menu you'll notice this appetizer is highlighted in red. That means it's a popular choice and we went with it. Served on a sizzlin' hot plate, these crab cakes are moulded in a bowl and drenched with delicious lemon butter that will have you ooooing and awwwing when they melt in your mouth.
Shrimp cocktail - $23.00 – chilled jumbo shrimp, choice of creole remoulade sauce or new orleans-style cocktail sauce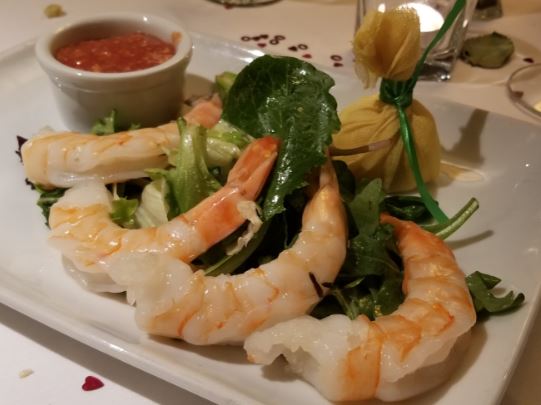 Shrimp don't get any larger than this! De-veined, these four massive shrimps are served on top of spinach house salad doused with a lemon vinaigrette and a dipping sauce of your choice. If you love shrimp, you won't want to not order this appetizer.
Filet - $63.00 – tender corn-fed midwestern beef 11oz cut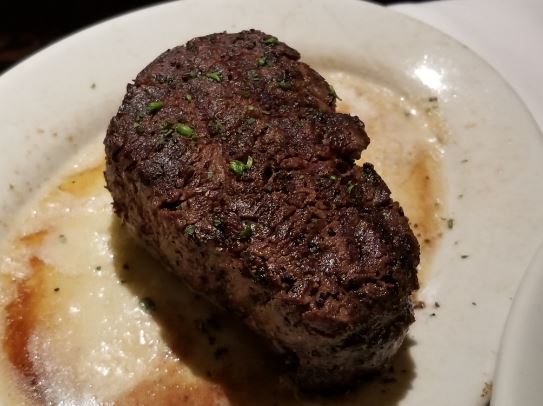 Every steak at Ruth's Chris is prepared with a special house-invented technique using butter and an extremely warm oven. You'll have to ask your server for more details, but it's quite interesting to know exactly how they get their steak to melt in your mouth. There's truly no substitute for just how delicious steak cuts are at Ruth's Chris.
Final Word
Overall, we highly recommend checking out Ruth's Chris for your next steak. While a bit pricey, you truly get what you pay for at this downtown restaurant in Calgary.

If you're on a budget, you can always enjoy a few appetizers and also some a la carte options then share. You can also go for the chicken, fish or smaller-sized steaks to get a taste of what Ruth's Chris is all about.
Ruth's Chris
Address – 194, 115 9th Avenue SE, 2nd Floor
Phone Number – 403-246-3636
I Love Calgary
Looking for more of the best local activities, events, restaurants and the rest that YYC has to offer? If so, we invite you to join us at Calgaryism on Facebook and Instagram today! We hope to see you there!