Shiki Menya Calgary Restaurant Review
January 26, 2015
By Cody Battershill
Shiki Menya Calgary Restaurant Review
Shiki Menya isn't your typical Japanese ramen noodle house – that's for sure. Actually, this place is much more than that, one of the best in the city I would say, with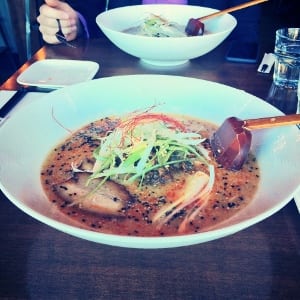 a daily limit on bowls served (posted inside on chalk board to the left of the open-kitchen) and ramen that will keep you coming back for more, again and again.
Here's our latest Calgary restaurant review on Shiki Menya Ramen Restaurant located in the foodie haven of Bridgeland.

*10 rated as best
Location
[mappress mapid="157"]
Atmosphere & Service
It isn't unusual to find a line-up outside of Shiki Menya during its hours of operation, partly due to its incredibly delicious and limited (or exclusive) bowl servings and smaller atmosphere. However, the noodle house does make good use of the space it does have with a few large tables, several two to four-seaters and possibly a dozen bar seats in front of the open kitchen.

For lunch I didn't mind sitting at the bar with my company of three. As a matter of fact, the open-kitchen provided some decent scenery, instilled curiosity and more than anything else, made my mouth water looking at the delicious-looking food that was being so carefully prepared.

On the other hand, our server behind the bar did a great job at explaining the ingredients and taste of each ramen bowl on the menu, and also made a suggestion that we all took – the tonkotsu classic.
Our Food
Tonkotsu classic - $12.00 – negi, soft tamago, menma, char siu, spring greens with double extra char siu (six pieces for $6.00)
Why the extra char siu you may ask? Well, it is most definitely the highlight of this ramen bowl. After each slurp of broth, noodle and veggies, I would be looking for a piece of that melt-in-your-mouth char siu to top it all off.

Let's not forget about the non-oily, spicy peanut tasting broth that was so good, I had to drink every last drop. Overall the tonkotsu classic is not only affordable at just $12.00, but is also one of the best ramen dishes I've had to date in the City of Calgary!
The next time you're looking for something different to try, or perhaps just love your Japanese ramen cuisine, definitely hit up Shiki Menya on 1st Avenue NE in the heart of Bridgeland – you won't regret it!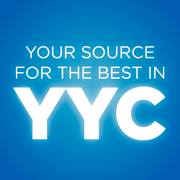 Shiki Menya
Address – 827 1st Avenue NE, Calgary, AB
Phone Number – 403-454-2272
Join Us
Do you live in Calgary and would like to stay updated with local activities, events and other happenings in and around town?

All you have to do is give us a like at Calgaryism on Facebook, Twitter or Instagram and all our postings will be put into your live social media feed - it's that easy! We hope to see you there!