Top 6 Food and Drink in Mission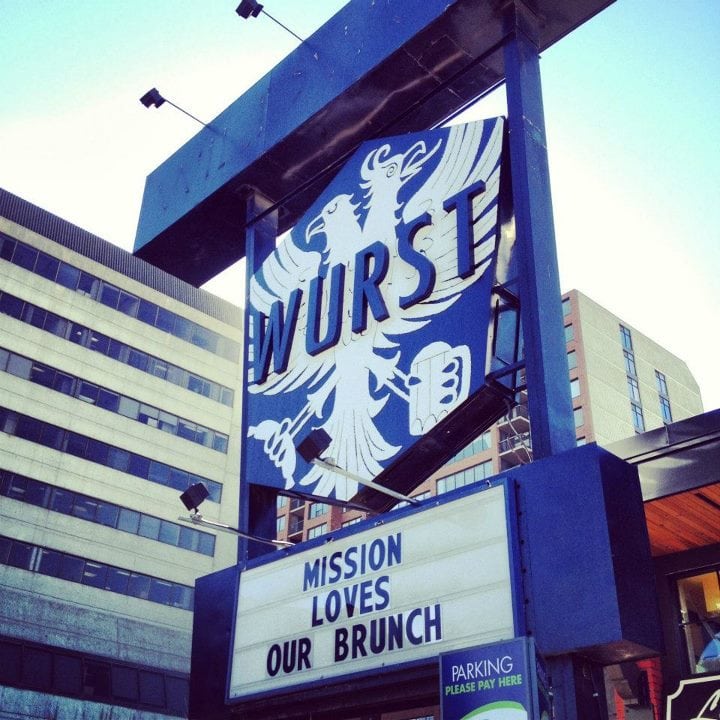 Often I find myself making my way to the inner city community of Mission for some quality eats. Not only is Mission conveniently located for a sit in dining experience, but it has some amazing restaurants as well.
Most of my favorite's are all found within a few blocks of each other on 4th Street in between 17th Avenue and 25th Avenue SW.
WURST
WURST is a great place for any kind of social events; whether it is a business meeting, a get together with the friends or simply to fill the stomach, WURST satisfies.

WURST's menu is truly unique. I highly recommend the Thuringer Bratwurst for lunch with a special beer of your choice from the extensive drink menu. WURST is on our list of the Best Calgary Late Night Food and Nightlife.

2437 4th Street SW, Calgary, AB
Phone Number – 403-245-2345
Mission Diner
A fairly new restaurant quickly making a name for its self! This inner city diner has an awesome breakfast, brunch and lunch menu that will surely leave your taste buds satisfied.

I usually get a version of the eggs Benedict, or omelette with my choice of ingredients. I have been to this restaurant many times without any complaints from friends or myself about their food or service. Check it out!

2308 4th Street SW, Calgary, AB
Phone Number – 403-453-0330
Towa Sushi
One of the best sushi restaurants in town! Towa Sushi is known for its exceptional quality and almost too big to fit in your mouth sushi rolls.

It's funny though because I always find a way to stretch my mouth as much as I need to in order to stuff my mouth with its very appetizing sushi rolls.

The fire cracker roll, Alaska roll, avocado roll, beef tataki, rainbow roll and tempura udon are to die for! Towa is one of our Top 5 Sushi Joints in Calgary.

2116 4th Street SW, Calgary, AB
Phone Number – 403-245-8585
Earl's Tin Palace
Earls Tin Palace is always a good destination for some good eats and a good time. It is one of the busiest Earls restaurants I have seen and is almost always packed!

I usually get the Cajun blackened chicken for the main course, or if my stomach isn't that empty, I'll get the champagne berry spinach salad with a chicken breast on top. To drink try out the "Helly Kellar", a concoction of red bull, vodka, beer and some other tasty liquids.

2401 4th Street SW, Calgary, AB
Phone Number – 403.228.4141
Anejo

Anejo has made its mark on the local Calgary foodie community with its pristine quality tequila and creative Mexican dishes.

Anejo just happens to be side by side Towa, another one of the best restaurants in Mission mentioned above, they even share the same entrance!

Next time your looking for some authentic Mexican food with a modern twist, and maybe some tasty tequila on the rocks, or a shot if you will, head down to Anejo! You won't regret it!

2 – 2116 4th Street SW, Calgary, AB
Phone Number – 587-353-2656
Mercato
Every time I go to Mercato, I am equally as impressed with the service and gourmet Italian food. Mercato is actually half market, half restaurant; an ingenious design.

Fresh Italian food is available at the market and is used by the restaurant section to cook only the best of the best.

Reservations might come in handy for those who want to avoid waiting at all for a seat. I highly recommend the feature of the day pasta and lamb. Mercato is one of our Top 10 Pasta Spots in Calgary

2224 4th Street SW, Calgary, AB
Phone Number – 403-263-5535
Check out more of the Best in Calgary today!
We would love to hear what your fvourite food and drink is in Mission. Leave us a comment below! Thanks for stopping in and hope to have you back soon.