Best Burgers in Calgary: 10 Burger Places You'll Love
June 16, 2022
By Cody Battershill
Best Burgers in Calgary: 10 Burger Places You'll Love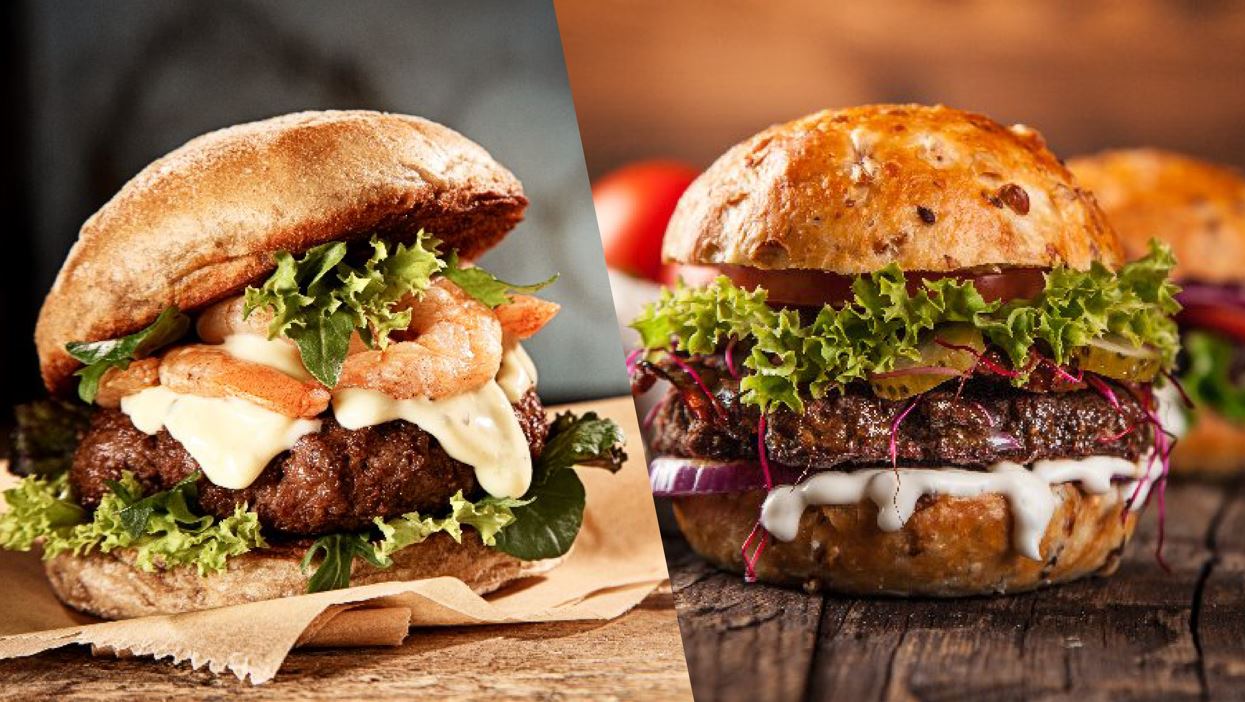 Are you looking for the best burgers in Calgary?
Home to AAA beef, Alberta is no stranger to delicious burgers, and Calgary – with its annual event line-up like the Stampede – is known for having some of the best patties around.
But burgers don't always have to be beef either. Whether it be chicken, veggie or another kind altogether, there is a place somewhere in the city that has you covered.
So skip the McDonald's drive-in and check out one of these quality restaurants for the best burgers in Calgary! Also see:
Charcut
View this post on Instagram
101 – 899 Centre Street SW
984.2180
It's always fun being experimental at Charcut by ordering different menu items, but my heart always reverts back to their burger.
Charcut is notorious for its Official Burger featuring gemstone grass-fed beef patty, cheese curds, house-cured bacon, arugula, tomatoes, kosher dill pickle and garlic aioli. My mouth is just watering thinking about this best burger in Calgary.
Heck, Charcut is so good that they even have their own food truck – Alley Burger, usually spotted somewhere in downtown or East Village. Try it out!
Alumni Sandwiches
View this post on Instagram
725 17th Avenue SW
455.7255
Alumni is well known for its sandwiches, but my oh my, it may just have one of the best hot chicken burgers in Calgary.
The "hot chicken" features slaw, pickles, comeback sauce on a brioche bun. Choose from one of three spice levels – the third is quite hot and should only be chosen by serious spice eaters.
The flavour of this sandwich will have you reminiscing for more. Trust me, once you eat an Alumni sandwich or burger, you'll never not go back!
NOtaBLE
View this post on Instagram
#133 - 4611 Bowness Road NW
288.4372
Hands down, Notable has the most tantalizing bison burger in Calgary.
Where else can you find an ensemble of bacon, Camembert cheese and mustard aioli on their house-made red fife caramelized onion bun? This delicious beast of a burger is served with your choice of side: green salad, fries or truffle parmesan fries.
The wow factor over Notable's best Calgary burger is the melt-in-your-mouth camembert – a moist, soft, creamy, surface-ripened cheese made from cow's milk. Delicious!
Blue Star Diner
View this post on Instagram
The Blue Star Diner's weekly feature burger/sandwich is bound to keep you on your tippy toes. Changing every Wednesday on "BSD Burger Night," the special runs all week or until it is sold out.
If the weekly feature doesn't tickle your fancy, we know the "BSD DIRTY DOUBLE" will.
Featuring two dry-aged Alberta beef patties, American cheese, iceberg lettuce, tomato, caramelized onions, bread & butter pickles and house-made special sauce on a "good bread" sesame seed bun, the "dirty double" is for only the most serious foodies looking to enjoy one of the best beef burgers in Calgary.
Clive Burger
View this post on Instagram
736 17th Avenue SW
777.1050
Clive Burger is well known for its "a-la-carte" or café-style business model, where you order a combo of exact ingredients from a list.
The beef is 100% all-natural, freshly sourced from Alberta and is hormone-free, resulting in a succulent burger every time. Clive Burger also has vegan, vegetarian and gluten-free options to accommodate those who may need it.
Their burgers are too good to mask the flavour with condiments but do try their Clive sauce on your burger and fries, its really good!
Peter's Drive-In
View this post on Instagram
219 16th Avenue NE
277.2747
Peter's may be one of the most iconic burger places in Western Canada, let alone Calgary. Open since 1964, Peter's joins Boogie's as one of the oldest and most well-known best burger restaurants in the city.
Enjoy a full menu that includes fresh beef patties, tasty milkshakes, onion rings, poutines, hotdogs and more. And the prices are great too, with a single starting at around $5.75.
You can't go wrong with Peter's, one of the best and most affordable Calgary burger places.
Boogie's Burgers
View this post on Instagram
Boogie's Burgers has been "slangin' burgs since 69" in Renfrew, a true testament to their success as one of the best burger places in Calgary.
Known for its retro feel and arcade games, Boogie's has also expanded to Marda Loop. Both restaurants boast over a few dozen options, including the originals such as the regular, mushroom, chicken and salmon, and more cheekily named options like the Blazin' Saddles, BoogMak, and Don't Fear the Reaper.
Boogie's also offers 36 different milkshake flavours, corn dogs, mac & cheese and even pickled eggs. Oh, and if you need a beer, they have that too!
REGRUB
View this post on Instagram
If you didn't know just yet, "REGRUB" is "burger" spelt backwards, a whimsical way to introduce yourself to burger lovers across town.
This multi-location restaurant features several versions of its Alberta grassfed beef burger ranging from Vintage Cheese to Spicy Chicken to Smoke N'Fire. REGRUB even has one burger variant called Mega Tots, featuring hormone-free beef patty sourced from Alberta, served with crispy tater tots, bacon bits, lettuce, tomato, sour cream, cheeky sauce, mozzarella and cheddar cheese.
REGRUB is also known for their lavish milkshakes made like artwork – no jokes – and are as delicious as they look.
Smashburger
View this post on Instagram
Smashburger's claim to fame is they smash and season their top-notch beef burgers – and rightfully so, as their spread across North America (and Calgary) is a testament to just how juicy and delicious their patties are.
One of our favourites is the Avocado Bacon Crispy Club Chicken Sandwich - your choice of grilled or crispy - a superior alternative for those looking to avoid red meat. Wash it all down with their fresh Saskatoon Berry milkshake.
Suppose you're looking for one of the best beef burgers in Calgary. In that case, we highly recommend the Colorado: certified Angus beef, pepper jack cheese, melted cheddar cheese, grilled Anaheim chiles, lettuce, tomatoes, and mayo on a toasted spicy chipotle burn. Yum!
Original Joe's
View this post on Instagram
When a restaurant has nearly a dozen different burgers to choose from, you know it's one of the best! And with multiple locations in Calgary, you can't go wrong with Original Joe's!
OJ's offers gourmet burgers made with everything from chicken, fish, pork, and beef. The American restaurant chain even has a vegan burger called the Kona with teriyaki sauce, grilled pineapple, bacon, mozza, lettuce, tomato, onion and mayo.
Enjoying a burger restaurant with your vegan friends is now possible. And besides, in most places you only get one side dish whereas OJ's offers two different sides including sweet potato fries, onion rings, coleslaw and soup to name a few options.
Best Calgary Burgers

Calgary is becoming a culinary destination for burger lovers. Let us know what your favourite burger place in Calgary is via [email protected] and we will add it to the list!
Until next time, be sure to check out more of the best in Calgary today!