Capitol Hill Calgary Inner City Community and Home Search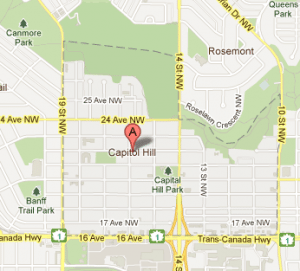 Capitol Hill is a northwest inner city community in Calgary located between 16th Avenue NW and Confederation Park.
Capitol Hill was established officially in 1948, but has some buildings that date back to as early as the 1920's. In recent years there has been many new infill homes constructed in the area, replacing some of its older homes.
Homes in Capitol Hill are less than five kilometres to the downtown core, giving home owners short traveling times to and from downtown and quick access to a plethora of amenities and services.
Recreation opportunities are just as easily accessed on the north ridge of the community where you will find Confederation Park.
Location
Capitol Hill Amenities and Services
Capitol Hill has great access to all of the required amenities and services needed for convenience in a persons everyday life. Trans-Canada Highway a.k.a. 16th Avenue NW is absolutely covered in businesses that range from A to Z. North Hill Mall shares 16th Avenue NW as a border with the community along with SAIT Polytechnic and the Alberta College of Art and Design.
10th Street NW and 14th Street NW both are saturated with other small businesses that you can take advantage of including dining and gardening shops as well as fast-food restaurants and strip malls. Home Depot is located within the community on the corner of 19th Street NW and 16th Avenue NW, making it quick and easy to get all of the home supplies you might need for your new residence.
Capitol Hill also has an outdoor skating rink and numerous sports fields and play fields available for your leisure.
Capitol Hill Schools
Capitol Hill is a great place to have a family because it is home to two schools, has adjacency to SAIT Polytechnic and Alberta College of Art and Design and is also a short twenty minute walk maximum to the University of Calgary!

The two schools located within the community include Capitol Hill Elementary.

Next up is Branton Junior High.

Elementary students have the option of attending Rosemont Elementary outside the community and for Junior High students they have the option of attending Senator Patrick Burns.

High school designation for students is William Aberhart or Crescent Heights, both of which aren't far from Capitol Hill's boundaries.
Capitol Hill Demographics
Statistics for the community you are considering buying in can always be helpful in making the decision to do so. Here are some of Capitol Hill's demographics from the most recent government Census(s) (City of Calgary, Civic Census 2009)

Ages 24 and below – 28.7%
Ages 25 to 54 – 56.0%
Ages 55 and up –15.2%
Average household income – $47,744 (Statistics Canada, 2006 Census)
Percentage of population with a High School Diploma or higher – 83.5%
Ratio of residents who own their property – 41.6%
Ratio of residents who rent their property – 58.2%
Public Transportation
Capitol Hill has many public bus routes that service the area or surrounding borders. These routes include route 4 / 5 – Huntington, route 10 – Dalhousie and South Calgary, route 19 / 119 – 16th Avenue North, route 40 – Crowfoot and North Hill areas, route 73 – Calgary Circle Route, route 89 Lions Park and LRT station, route 91 – Lions Park and Brentwood LRT / bus stations, route 145 – Northland Mall, route 174 – Scenic Acres Express, route 181 – Mount Royal University North Express, route 404 – North Hill, route 407 – Greenwood area, route 411 – Rosedale East Calgary and last but not least route 414 which services 14th Street cross town from north to south Calgary.
With such an abundance of public transportation routes you will find it easy to get around town. Capitol Hill also has five LRT stations all within two kilometres or less from its central point!
Capitol Hill Community Boundaries Are:
Northern Border – Confederation Park from 19th Street NW to 10th Street NW

Eastern Border – 10th Street NW from Confederation Park to 16th Avenue NW

Southern Border – 16th Avenue NW from 10th Street NW to 19th Street NW

Western Border – 19th Street NW from 16th Avenue NW to Confederation Park
Calgary Inner City Real Estate Resources
Accomplish Your Inner City Goals!

Get the best advice in real estate and call me anytime at  403-370-4180 or quickly fill out the form below and I will get back to you promptly! I am looking forward to helping you accomplish your real estate goals!