Mount Pleasant Calgary Inner City Community and Home Search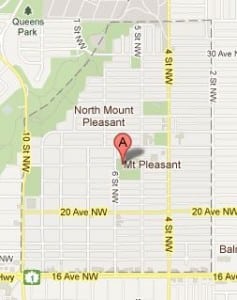 Mount Pleasant is an inner city community located in the northwest quadrant of Calgary. The establishment of Mount Pleasant dates back to 1912. Many of the older homes in the area are being replaced by new infill developments
Downtown is within close proximity to the area, approximately less than four kilometres south, creating desirability for infill home buyers and developers abroad.
Mount Pleasant is situated between main routes that give access to plentiful amounts of amenities and services, while Confederation Park borders the north side of the community providing great leisure and recreation for residents.
Mount Pleasant Amenities and Services
Mount Pleasant southern border happens to be the Trans-Canada Highway that provides or gives access to a vast amount of amenities and services. Travel west on 16th Avenue NW to reach innumerable strip malls, North Hill Mall, Home Depot, Banff Trail Business park, McMahon Stadium or even a bit further down and up Shaganappi Trail to Market Mall, all of which can be reached in fewer than ten minutes of driving.
Travel east on 16th Avenue NW to reach even more strip malls, amenities and services or access Deerfoot Trail in under five minutes of driving. SAIT Polytechnic and Alberta College of Art and Design are situated across 16th Avenue NW and 10th Street NW intersection, giving students and residents alike the use of their facilities.
Jubilee Auditorium is located on the same block as SAIT that hosts a ton of eventful performances by entertainment groups and musicians. Let's not forget Confederation Park with its massive land area that has a public outdoor swimming pool, indoor and outdoor hockey rinks, and multiple sports and playing fields.
Mount Pleasant Schools
Mount Pleasant is home to two French Immersion schools that include King George Bilingual Elementary School and Ecole de la Rose Suavage French Junior and Senior High School.

For public students school designation for kindergarten to grade six are either Buchanan Elementary or Rosemont Elementary, of which Rosemont has a bus courier to deliver them to and from.

Junior High designation is to Georges P. Vanier that tends grades seven to nine and for High School students they will either go to Crescent Heights High School or James Fowler High School.
Mount Pleasant Demographics
Here are some demographics concerned with age, average income, educational levels and the percentage of owned versus rented properties. (City of Calgary, Civic Census 2009)

Ages 24 and below – 25.6%
Ages 25 to 54 – 58.5%
Ages 55 and up – 16.0%
Average household income – $63,053 (Statistics Canada, 2006 Census)
Percentage of population with a High School Diploma or higher – 85.9%
Ratio of residents who own their property – 63.7%
Ratio of residents who rent their property – 36.3%
Public Transportation
Mount Pleasant has great access public transportation. The closest LRT station is SAIT Station which is about 1.5 kilometres away from the central point of the community and is a short walk away.
Some of the many bus routes that stop within or on the borders of Mount Pleasant include North Hill, Rosedale East Calgary, 16th Avenue North, Huntington, Northland, Elbow Drive and Sandstone, BRT North and West (dedicated LRT replacement), MacEwan Express, Panorama Express, Deerfoot Centre, Renfrew and Spruce Cliff, Lions Park, Dalhousie and Calgary South (South Centre Mall), and 14th Street Cross-town from North to South.
Mount Pleasant Community Boundaries Are:
Northern Border – Confederation Park/32nd Avenue NW 10th Street NW to 2nd Street NW

Eastern Border – 2nd Street NW from 32nd Avenue NW to 16th Avenue NW

Southern Border – 16th Avenue NW from 2nd Street NW to 10th Street NW

Western Border – 10th Street NW from 16th Avenue NW to Confederation Park
Questions about Calgary Infills?

Call me anytime for answers! Reach me directly at 403-370-4180. I am looking forward to helping you attain your real estate goals!
Calgary Inner City Home Resources
Search Mount Pleasant Real Estate Listings and Calgary Infills
Data was last updated April 4, 2020 at 10:05 PM (UTC)