Kinjo Sushi Calgary Restaurant Review
January 23, 2012
By Cody Battershill
Kinjo Sushi Calgary Restaurant Review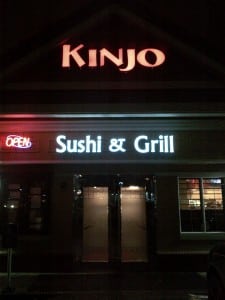 Kinjo is popular in the north and the south of Calgary as they have two locations, the newest opened up in Dalhousie last year. Both locations are modern and welcoming. The service is very attentive and good, you feel you are a Japanese restaurant!
The fish is fresh and menu selection very good. I love the menu with so many smaller items you can order so many different things and try everything and it doesn't have to be expensive. The fish is very fresh and meat items good quality. The appetizers are also delicious.
I would recommend trying the Steak, Yam Tempura, Gzoya, various Sushi rolls and specifically the Philadelphia roll, the Miso soup, the Teriyaki chicken and the Tofu! I would recommend Kinjo as one of the best sushi restaurants in Calgary, check it out!