Calgary's All-Inclusive Fireworks Festival is Almost Here!
GlobalFest is a cultural celebration of epic proportions showcasing the traditions, food, music and languages of over 60 different nations from around the world!
These are all expressed in different ways during GlobalFest's 12 day period. You'll see:
Culinary tents where you can try and buy different ethnic foods

Artisan shops to explore authentic cultural keepsakes, clothing and other neat stuff

Live music and performances from a plethora of different nations around the world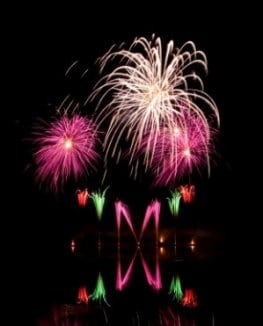 But wait, so how does GlobalFest hold title as Calgary's best firework festival? Well, as you'll see if you buy tickets, each day has its own national theme which usually includes up to five different nations.
Selected nations for GlobalFest 2016:
United States – August 25th

Canada (Finale) – August 27th
Each night people attending the festival gather around Elliston Park's pond before sundown to get comfortable for what's to come – a fireworks show of epic proportions!
The magnificent display of fireworks is choreographed to different hit songs from each nation, making for one colorful spectacle in the night sky!
When
GlobalFest from August 18th – August 27th, 2016

Human Rights Forum from August 15th – August 19th, 2016

Fireworks shows August 18th, 20th, 23rd, 25th, 27th

Stage performances begin at 6:30pm nightly
Where
Elliston Park is located in the southeast quadrant of the city. Keep in mind that several blocks near Elliston Park are closed off during the festival at night to allow for people to walk to and from the grounds, so parking can be a bit troublesome.
Cost
Regular ticket (one night) – $20.00 per person

Global Pass (all nights) – $75.00 per person

VIP Pass (one night) – $45.00 per person

VIP Festival Pass (all nights) – $200.00 per person
I Love GlobalFest
If you want to experience one of Calgary`s best festivals, then you should definitely grab a ticket and head on down to one of GlobalFest`s firework nights. The display of fireworks reflecting off of Elliston Park`s pond is a sight to behold!
Also, if you`re interested in human rights issues around the world then you`ll definitely want to check out one of the Human Rights Forums held before the actual festival begins each day.
A highlight of this years` Human Rights Forum includes recently imprisoned journalist Mohamed Fahmy on Wednesday, August 17th from 7:30am to 9:30am at Civic on 3rd – 130 3rd Avenue SE.
Tickets are $50.00 per person and include a breakfast buffet as well as two complimentary general admission tickets to GlobalFest`s Mexico fireworks show held on Tuesday, August 23rd.

We wish you a happy GlobalFest 2016!