10 Benefits of an Inner City Lifestyle in Calgary
March 8, 2021
By Cody Battershill
What's So Awesome About Inner City Living in Calgary?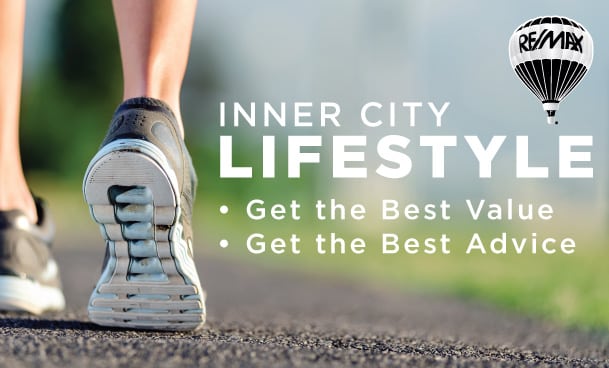 Living an inner city lifestyle in Calgary has many benefits such as convenient accessibility to downtown, amenities and entertainment to name a few. These, among the others listed below, are part and parcel of the high demand for Calgary inner city real estate and why so many love to call this region of the city home.
We have put together a list of 10 reasons why inner city living in Calgary may just be for you. What is your favourite thing about living in the area that we have missed? Let us know and we will add it to our list!
#1 - Accessibility to Downtown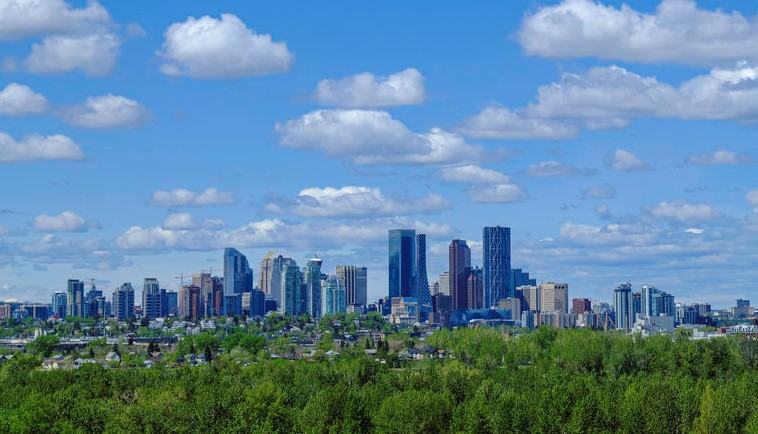 Downtown Skyline
If you work in or near the city centre, it's a huge benefit to live downtown or as close to it as you can because you'll save heaps of time travelling to work each day. Many urban professionals choose to live inner city because getting to and from work means a short walk or bike ride and missing out on traffic all together.
Downtown is also packed with amenities which means you'll also have quick-and-easy access to a wide range of restaurants, shops and services. Picking up a meal on the way home is easy to do, and probably preferred by many of us after a long day at work anyhow.
Downtown is also a social hotspot and is where you'll find some of the best entertainment and nightlife venues, not to mention some of the best restaurants in Calgary. Never again do you have to pass up on meeting friends because the drive is too far and you don't feel like making the "journey."
Imagine the possibilities with the extra time you'll have?! Spend it with the family, working out at the gym or perhaps doing your favourite hobby?
#2 - Amenities, Everywhere
With over 1,000 retail stores and 3,500 businesses in downtown alone, you shouldn't have to travel far to find the amenity or service you need when living an inner city lifestyle in Calgary.
Make your way to one of the indoor shopping centres located in the city centre and avoid the weather outside entirely using one of the world's most extensive +15 walkway systems that spans more than 16 kilometres in and around downtown!
There's even more in the inner city in areas designated as "districts" or "business improvement zones" where you'll find countless more amenities. Kensington, for example, is found just north of downtown's west end and is home to favourite local restaurants like Pulcinella and Peppinos. Other similar areas include:
These vibrant districts are the site of many year-round festivals that make the city come alive especially during the spring and summer. Access to these areas is especially convenient if you live in the inner city because of the effective public transportation routes and an extensive paved pathway system that connect communities to one another effectively.
#3 - Close to Entertainment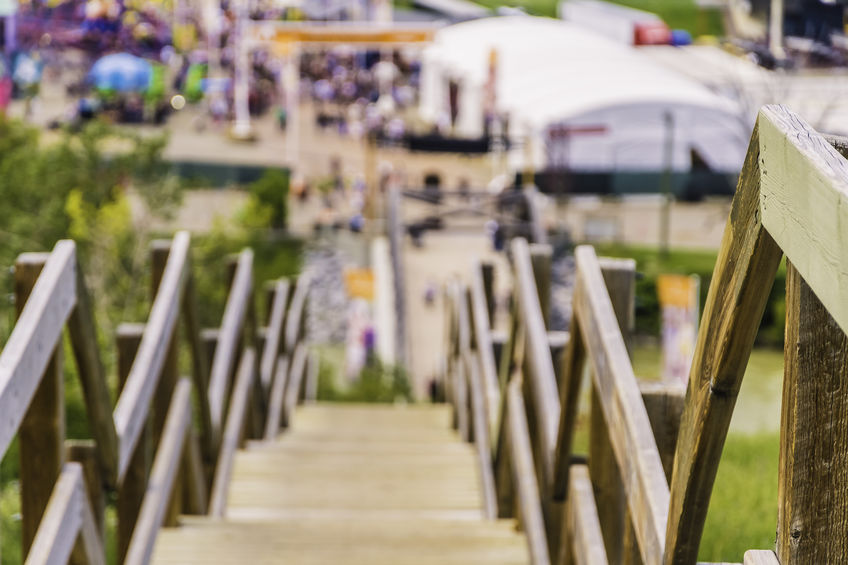 Staircase leading to Stampede Grounds
Much of Calgary's best entertainment and nightlife venues are found in the inner city and downtown. Have a delicious meal at one of Calgary's finest restaurants, enjoy a show at one of many theatres or perhaps make your way to one of Calgary's best night life spots all just a short walk or drive away.
Calgary's list of annual festivals - most of which are held in the inner city and downtown - is also extensive and includes a diverse set performances and events. Some of Calgaryism's favourites include:
Public transit routes and our famed paved pathway network all make it easy to reach these festivals, another huge benefit of living an inner city lifestyle in Calgary.
#4 – Walkable Lifestyle

Living a walkable lifestyle in the inner city and downtown is sought after by young couples, urban professionals and even empty nesters. The ability to jaunt down to your favourite coffee shop, to the gym and then back again in a few short blocks - or perhaps engage in a few other different activities / errands all together - is hard to look past for many potential buyers.
Downtown, Downtown West End, East Village, Eau Claire, Hillhurst, Sunnyside, Sunalta, Lower Mount Royal, Inglewood and the Beltline are the most walkable communities in the city by far. These areas provide residents with direct access to the river parks and pathways along the Bow and Elbow Rivers, as well as to hundreds of restaurants, shops and services along main streetscapes. Also see:
#5 – Best Recreation & Leisure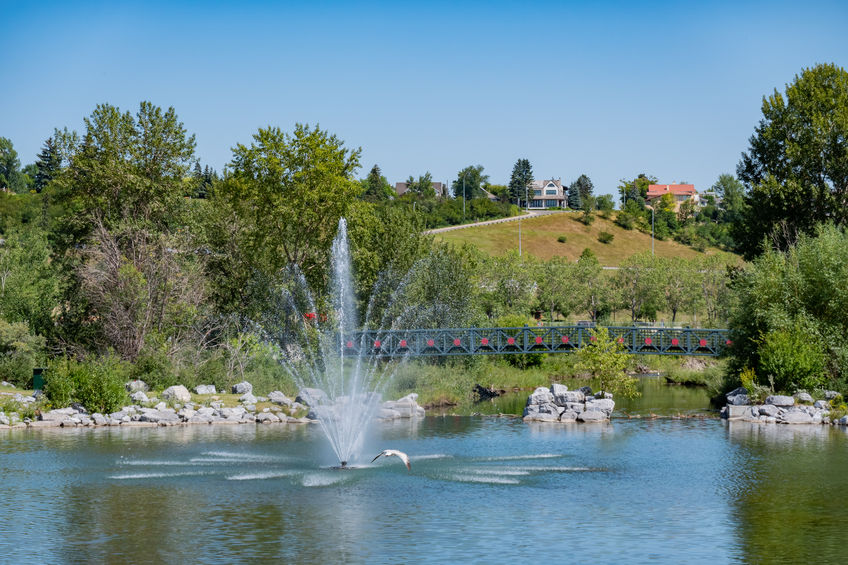 Prince's Island Park in Downtown
There are a ton of outdoor green spaces and parks - some of the best our city has to offer - in the inner city and downtown areas. Some of them include:
Eau Claire Market Grounds
Shaw Millennium Park
Prince's Island Park
St. Patrick's Island
Riley Park
Olympic Plaza
Central Memorial Park
Stampede Grounds
Don't forget quick-and-easy access to the Bow and Elbow River pathways where you'll find places like the Repsol Sport Centre. This facility is by far one of the most all-inclusive recreation centres in the city and sits amid the beautiful Lindsay Park, carved out by the meandering Elbow River on its north and west sides.
#6 - Diverse Real Estate Portfolio
Real estate found in the inner city ranges from affordable studio condos in East Village to million-dollar hillside mansions in Crescent Heights, meaning there's a type of property perfect for a wide range of buyers.
Begin your search for that perfect home in the inner city today:
#7 – Have More Time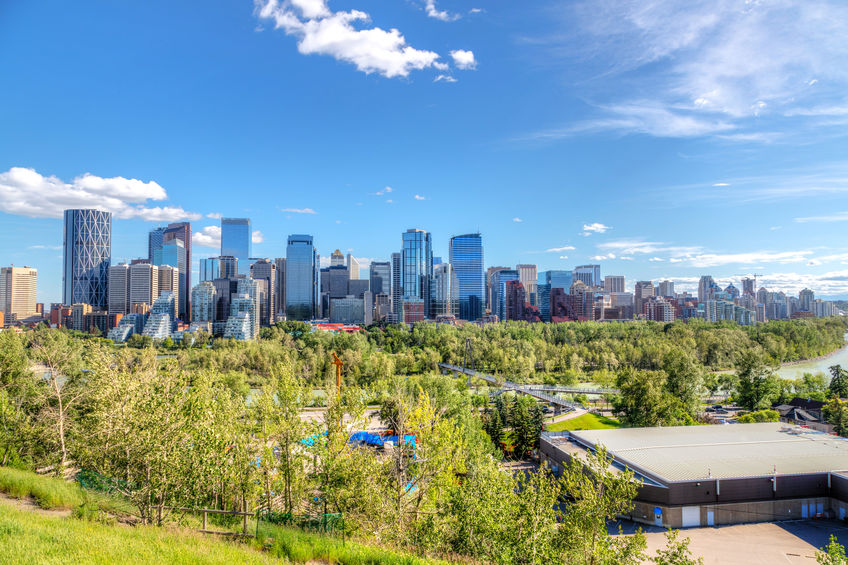 Downtown Skyline from Crescent Heights
Instead of spending that extra hour getting to and from work every day, or maybe even longer when you're stuck in traffic, you could be at the gym, with your kids, or getting ahead on a project long before the deadline when living in the inner city.
Honestly speaking, the chances of meeting family, friends and associates in the downtown / inner city areas for whatever reason is probably high anyways considering there is a higher concentration of offices and amenities as you get closer in to the city centre.
Living an inner city lifestyle means you can say goodbye to the long commute times and start spending more time doing what is important for you.
#8 – Save on Gas

Think of the potential thousands of dollars you could save on gas and vehicle maintenance each year when living an inner city lifestyle in Calgary. That cash could be put towards something much more meaningful... just think of the possibilities!
Calgary's public transportation system of C-Trains and buses makes it convenient to get from point A to point B if you're really looking to save a buck or two, although you'll want to weigh time spent in transit vs. potential money you're saving on gas.
#9 – Vibrant, Diverse & Eclectic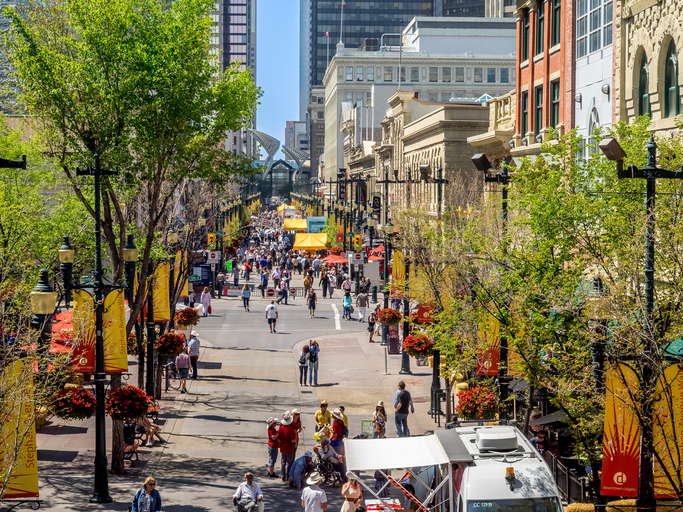 Stephen Avenue
Calgary's diverse population contributes immensely to the weekly activities, events and festivals you'll find in the inner city and downtown region, especially in areas like Prince's Island Park, St. Patrick's Island, East Village, Eau Claire and business revitalization zones like Kensington and Marda Loop.
Stephen Avenue (seen above), Calgary's downtown pedestrian walkway, is another vibrant streetscape of town where you'll see streetfood vendors and buskers as well as live events every now and then. Enjoy some of the most eclectic areas of the city just a short walk or drive away from your residence in the inner city.
Needless to say, you have the best access to the best activities and events years round when living an inner city lifestyle in Calgary.
#10 – Mature Vegetation
Inner city areas have mature trees and vegetation that not only add privacy to your property, but also contribute to the overall curb of your property and living experience as a whole.
Get the Best Advice Today!


Are you thinking about switching over to an inner city lifestyle in Calgary sometime soon? If so, we invite you to see our complete Calgary Inner City Home Buyers Guide for several tips that will help you through your next purchase!
Have questions about buying or selling inner city real estate in Calgary? Contact Cody Battershill, a top-producing agent with RE/MAX House of Real Estate to discuss your real estate goals today!