New Calgary Homes for Sale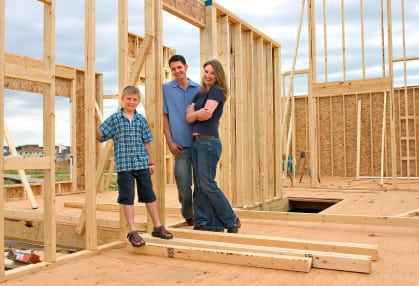 As Calgary continues to grow at a rapid pace, new communities are being built to accommodate the growth. Many of these new Calgary homes for sale can be found in these new communities or in new subdivisions of older ones.
Let's not forget about the high demand for new inner city homes in Calgary. Regardless which type of new Calgary home you are looking for, it's important to know what you want out of your home, community and location.
If you are on the market for a new home in Calgary, I recommend looking into some of the communities highlighted below. Each article goes into depth about different community aspects such as location, home builders, history and more. Check them out!
New Homes in Calgary Communities…
Auburn Bay
Auburn Bay is a new Calgary lake community found deep in the southeast quadrant of the city. Auburn Bay is host to multiple home builders, giving new home buyers the opportunity to really pick and choose what kind of residence they like. If you would consider living by a body of water in a prairie setting, then this new neighbourhood might be for you! Find out more at Auburn Bay – Calgary Lake Communities.
Aspen Woods
Aspen Woods is a SW community in Calgary that is very family oriented with tons of interconnecting green spaces and is an upscale community with a variety of new Calgary homes ranging in both price and style. Found in between 17th Avenue SW and Bow Trail SW, getting to and from downtown takes a short amount of time while escaping west to the Rocky Mountains is even easier. More information about Aspen Woods at the Aspen Woods Community Profile and Home Search.
Aspen Summit
Aspen Summit is a subdivision of Aspen Woods featuring quality luxury homes, magnificent community design and is located well within reach of downtown Calgary. Aspen Summit has three different areas including Aspen Summit Heath, Aspen Summit Park and Aspen Summit View. A wide range of home styles and prices makes sure there is something for everyone in this new community. More information about its home builders and areas at Aspen Summit New Luxury Homes in Calgary.
Aspen Acres
Aspen Acres is yet another new subdivision in the acclaimed west end community of Aspen Woods. Aspen Acres homes are selling fast, so if your in the market for a new home in Aspen Woods, you might want to act quickly! Homes starting price points in and around the $600's to $700's, great value in a great neighbourhood! Learn more at Aspen Acres Aspen Woods Calgary.
Castle Keep
Castle Keep is a new and exclusive community on the edge of the cities SW quadrant. Some of the best luxury home builders in Calgary have been included by Dundee Developments in the creation of this master planned community with 28% of its area developed as green spaces. Castle Keep a variety of upscale homes with a unique medieval architectural theme not seen anywhere else in the city. If you want to live in a beautiful landscape where escaping west to the Rockies and beyond is easier than ever without sacrificing too much distance to downtown, then Castle Keep might be the community for you. More information at Castle Keep New Luxury Homes in Calgary.
Cougar Ridge
Cougar ridge is an affluent community found immediately south of Canada Olympic Park and north of Old Banff Coach Road. Find beautiful new homes with breathtaking views in the area, as well as a number of nearby amenities, services and ample recreational opportunities. Found on the edge of the southwest, traveling west to the Rocky Mountains and beyond is easier than ever, without giving up too much distance to the downtown core. Find out more about this highly sought after area at Cougar Ridge New Homes in Calgary.
Crestmont
Crestmont was established in 2000 by Qualico, a well reputed family developer in the Calgary region. Crestmont is a wonderfully located, family oriented neighbourhood offering a mid to upscale homes with newer and completely new construction dates. Found on the brim of the west side of Calgary, escaping west to the Rocky Mountains and beyond is easier done than said when living in Crestmont, Calgary! Find out more about this neighbourhood at our Crestmont Calgary Southwest Community Review.

Currie Barracks
Currie Barracks is a part of the Canadian Forces Base redevelopment by the CLC or Canada Lands Company. Part 3 of a 3 phase development including Garrison Woods and Garrison Green, Currie Barracks is a rare living opportunity in Calgary. Found in the inner city region, new homes of all shapes, sizes and prices are under construction and or finished. More information about this highly sought after inner city community at Currie Barracks New Homes in Calgary.
Evanston
Evanston is a beautiful prairie community in NW Calgary adjacent to the Stoney Trail ring road. Since its establishment in 2007, the community has expanded its borders with continued development of new subdivisions. Evanston has a variety of new Calgary homes built by a variety of home builders. For more information on Evanston, be sure to check out Evanston New Calgary Homes.
Evans Ridge
Evans Ridge is a subdivision of Evanston, found on the brim of city's NW quadrant. Evans Ridge shares the same characteristics as its mother community with lots of green spaces, pathways and parks. A full spectrum of house styles and prices are found in the new NW community of Evans Ridge. Find out more about the neighbourhood at Evans Ridge New Homes in Calgary.
Evansview
Located in the heart of Evanston, Evansview is a new upscale subdivision that will give buyers a more exclusive living opportunity. Developer Genstar has limited lots available in the newly developed community. Find out more about New Homes in Evansview today!
Mahogany
Mahogany is another new Calgary lake community found directly beside Auburn Bay, at the brim of the southeast quadrant. Mahogany was named the best new community in the Calgary region by the  Canadian Home Builders Association for 2012. If you are looking for a suburban home, then check out Mahogany – Calgary Lake Communities, you won't want to miss it!
Paskapoo at Cougar Ridge
Paskapoo is a new subdivision development of Cougar Ridge in the southwest Calgary area. Home builders Excel Homes and Shane Homes are featuring beautiful, upscale new homes starting in the high $560's and $600's. This family oriented community will be host to 237 homes upon completion. Find out more at Paskapoo Cougar Ridge New Calgary Homes.
Quarry Park
Quarry Park is a new SE Calgary community built on a completely redeveloped gravel quarry. Quarry Park is a unique mixed-use development with commercial, retail and residential areas. Residents have immediate access to some of the best outdoor recreation in town via riverside pathways leading northward to downtown Calgary and southward to Fish Creek Provincial Park. Find out more about new Calgary homes in Quarry Park and about the community itself at the Quarry Park New Homes in Calgary.
Silverado
Silverado is a newer community in Calgary found on the brim of the southwestern quadrant. Silverado has many different types of new homes for sale that are anywhere from 5 years old to brand new.

The only new home building opportunities in the area are for million dollar, estate sized homes only. Learn more at Silverado Calgary Homes for Sale today!
Stonepine
Stonepine is a luxurious community found just 3 kilometres west of Calgary. Estate style living in top end luxurious homes is what you will find at Stonepine. This new community is gated for maximum protection and has an all-inclusive amenity list for residents to take full advantage of. Stonepine is the ideal gated community for retirees or for those looking to live in luxury while escaping the hustle and bustle of the city. Learn more at Stonepine Calgary Luxury Homes.
Timberline Estates
A new community built on the western side of Springbank Hill, beside Canada Olympic Park. Featuring large lots with beautifully designed homes, Timberline Estates is one of the next best up and coming luxury neighbourhoods in the SW area. Only 66 lots are for sale so if you are interested in the area act quickly! Find out more about this community at Timberline Estates New Luxury Homes in Calgary.
Watermark at Bearspaw
As a finalist for the Canadian Home Builders Assocation SAM 2012 Best New Community Award, Watermark at Bearspaw is receiving local and national attention for its design. Watermark features $1million dollar homes or more on huge lots, with an all-inclusive amenity list untypical even in other luxury communities. Find out more about this outstanding neighbourhood at Watermark at Bearspaw Calgary Luxury Homes.
West Springs
Another upscale southwest community located between Aspen Woods and Cougar Ridge. West Springs has a variety of new and resale quality homes available ranging in price from the 300's all the way up to the million dollar range. If you are looking for a well located community on the edge of the city without sacrificing too much travelling time to the downtown core, then West Springs might be for you! More info at New Calgary Homes in West Springs.
West Grove Estates
West Grove Estates is a new luxury subdivision of West Springs, in Calgary's highly desirable west end. Set amidst the aspen groves of the rolling foothills inherent to the area, West Grove Estates has beautifully designed, semi-estate style properties from 5 acclaimed luxury builders, starting in the $900's. Find out more at West Grove Estates West Springs Calgary.
New Inner City Homes
New inner city homes in Calgary are in high demand. If you are set on an infill home, then be sure to check out our Calgary North Infill Communities and Calgary South Infill Communities to find the one perfect for you!

Building a New Home in Calgary?
Building a new home in Calgary to fit your lifestyle is as exciting as it gets! If you are thinking of doing so, make sure you get everything you wanted out of your new home and make the most educated decision possible by reading these tips to Building Your New Calgary Home!
Questions? Call me direct at 403-370-4180 or send me an email using the contact form below. I am looking forward to helping you accomplish your real estate goals!