Pho Huong Viet 17th Ave SW Calgary Restaurant Review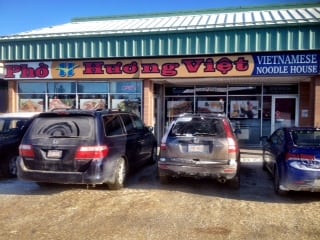 I am always up for trying out "new" pho restaurants in Calgary that I've never tried before. On this particular day, I was actually trying to get to Cochinchine on 17th Avenue SW, but missed my turn, which led me to stumble upon Pho Huong Viet only a few blocks west.
Was it meant to be? I think so, especially after I walked into this restaurant and saw how busy it was. A busy pho restaurant is almost always a tell-tale sign of a good one; well, at least in my experience of eating Vietnamese cuisine, and I am sure there are many that will agree.

*Scale out of 10, with 10 being the best and 1 the lowest
Atmosphere and Service
Pho Huong Viet on 17th Avenue SW has a well-finished interior that makes use of various Vietnamese décor and modern colours. One thing I didn't necessarily like was how little spacing there was between tables, although it's a small detail to sweat when you're looking for that next best bowl of pho.

Our server was very keen at his job and made sure we were looked after. He even filed up our drinks halfway through without any notion on our part, which is unusual for most pho restaurants! Now, let's get on to the good stuff – the food!
Our Orders
#4 – Medium rare steak noodle soup (M) – $6.95 – this is your typical medium beef noodle soup. The broth was quite tasty as it wasn't too salty, it was actually just right. This is a great dish to order if you like to doctor up your food yourself with the various sauces they have on table, or that you can ask for as extra.

#1 – Huong Viet's special sate beef noodle soup (L) – $7.75 – I couldn't believe how cheap this bow of pho was. It must be the cheapest I've seen in Calgary for years, which is why I've rated the cost of this restaurant a full 10. For special sate beef soup lovers, you simply have to try this soup. Its spicy flavour wasn't overbearing, and you sure do get a lot of noodles and a decent amount of beef for the cost. Also, the broth was quite delicious; a mixture of sweet and spicy without much oil, which was nice for a change, especially for later in the day if you know what I mean.
Check Them Out…
Overall, Pho Huong Viet on 17th Avenue SW impressed me with their exceptional food and prices – so much in fact that it has made it onto our list of Best Calgary Pho Restaurants. I highly recommend this restaurant if you happen to be in the neighbourhood, or perhaps miss your turn like I did!

Pho Huong Viet
Address – 3855 17th Avenue SW, Calgary, AB
Phone Number – 403-686-3799