Vogue New Condos in Downtown Calgary
May 19, 2012
By Cody Battershill
Vogue New Condos in Downtown Calgary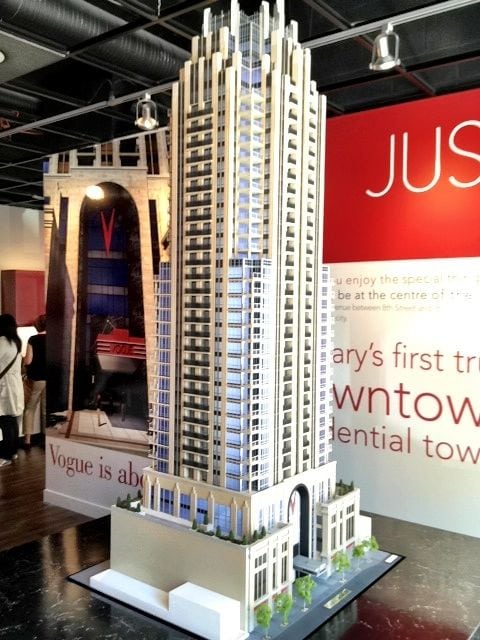 Another new downtown Calgary condo project named Vogue by the LaCaille Group has just been announced! This new development will appeal to everyone looking for a convenient down town location with brand new luxury finishings.
Vogue will let you live, work and play in a beautiful downtown Calgary location. Beautiful design, views of the Rocky Mountains, countless nearby amenities and an impressive list of in-house facilities are only a few of the appealing attributes of the up and coming Vogue.
Vogue Features
The 34-floor tower's exterior rendering shows its elegant design, one that has taken only the best characteristics from New York and Chicago condo styles and has combined them into the ultimate eclectic design hybrid.
Residential units rise up to 365 feet, topped by unique spires that will be lit at night time. For the first 16 floors, each will have 10 condo units. 7 floors afterwards will have 6 units each, and on top of them there will be 2 sub-penthouse floors offering 4 units larger than 1000 square feet with breathtaking views of Calgary in all directions and let's not forget, the Rocky Mountains.
250 parking stalls will be available in 4 underground parking levels and 2 above-ground parking levels hidden by the glass and stone exterior. Commercial and retail lease spaces will also be situated between a dramatic archway rising 8 stories lined with lustrous black granite, adding to the in-house amenity list for Vogue.
Vogue has launched a marketing campaign targeting young urban professionals. LaCaille has hired photographers to take pictures of stylish, well-dressed people in the downtown Calgary area to post on Facebook. Three red Fiat motor vehicles are also part of the marketing plan that will eventually be given away to customers, if they are lucky that is, at a future promotional event. Neat!
If you are looking for a new condo in Calgary you need your own expert representation. When you are ready please contact me, until then I have tons of condo guides you might find very useful! A few of them are:
Looking for a New Calgary Condo?

Vogue is an exciting new Calgary downtown condo project by LaCaille Group. If you want to get the best advice about Vogue and the new condo market in Calgary, please contact me today by phone 403-370-4180 or send me a message below! New condos are one of my specialities.
[gravityform id="1" name="How Can I Help?"]