Keynote – Calgary Condo Building Review and Listings Search
August 1, 2012
By Cody Battershill
Keynote One Calgary Condo Building Review - 1119 1st Street SE, Calgary, AB
179 units
Built in 2010
Keynote Development Corp.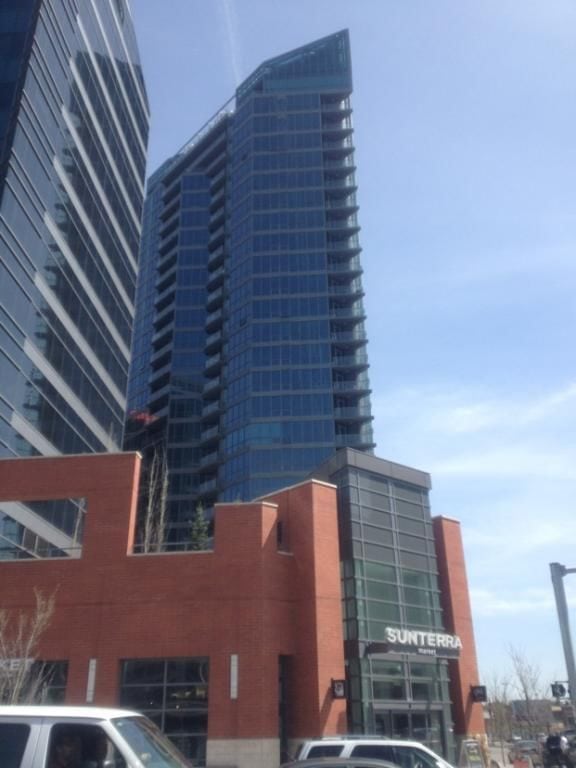 The Keynote Urban Village is downtown condo complex in Calgary, AB, constructed by an original Calgary company Keynote Development Corp. in the beltline community of Victoria Park. In the near future the complex will have two high-density towers with a total number of 429 suites.
The first phase was completed in 2010, with a total of 179 suites between 25 different floors. Another 250 suite tower erected 36 floors is currently under construction with a projected completion date of summer in 2013.
Keynote Urban Village is geared towards younger generations with high living density; therefore the majority of suites in each building are one-bedroom homes. Square footage for these will range from 566 square feet up to and including 675 square feet. The small amount of two-bedroom apartments that will be available will be approximately 850 square feet.
In house parking includes about 700 lots amongst 4 different levels with segregated areas for different buildings part of the urban village. Retail spaces are located at the bottom levels of the towers, providing a number of different kinds of amenities and services for residents.
Sunterra Market (bottom of picture) and the downtown business district are less than a few minutes of walking. A decent sized fitness centre, a resident's lounge and a total of two guest apartments available for rent will be part of the common in-house amenities provided with the completion of Keynote Two in 2013.
Each suite bought comes with one parking space but storage lockers are optional. Balboa Land Investments, the father company of the developer, are also constructing another office tower as well as a third 18-floor high-rise tower.
Downtown Calgary living is convenient in Keynote with immediate access to downtown and surrounding amenities and services.
Questions about Calgary Condos?

If you are interested in this condominium and have any questions, feel free to contact me at any time direct at 403-370-4108. I would be happy to assist you in meeting your real-estate goals!
On a further note, check out my Full Calgary Condo Guide for several tips on condominiums.
Search Listings at Keynote
[mrp account_id=21736 listing_def=search-311541 context=recip init_attr=sort~date_desc,lvs~gallery perm_attr=_wf~590]