Killarney Calgary Inner City Community and Home Search
January 22, 2012
By Cody Battershill
Killarney Calgary Inner City Community and Home Search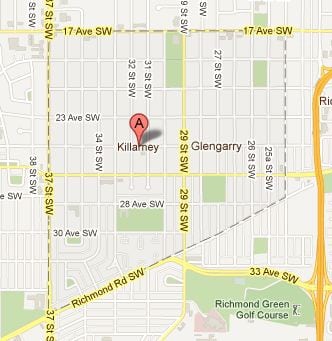 Killarney is a a highly desirable neighbourhood for home buyers looking to live inner city. The City of Calgary started developing Killarney over a century ago in 1910. Killarney's age and location has been a main factor in redevelopment of the overall area which really started to take off beginning approximately in 2002 with new infill home developments.
Find more information on Killarney here.
Killarney Amenities and Services
Killarney is well located close to all amenities and the conveniences of the inner city lifestyle with quick access to everything essential, shopping, groceries, restaurants, pubs and more.
The area also has good public schools for your family and fitness options such as Killarney Recreational Centre and World Health along Richmond Rd.
Find most of the essentials amenities by nearby Westbrook Mall where you will find shopping at Safeway, Wall-Mart, Starbucks, medical clinics; anything you need is located nearby.
Killarney Schools
Killarney is home to two schools. Killarney Elementary School is a public school teaching kindergarten to grade six.

Looking to enroll your child(s) in a great French immersion elementary school? Holy Name Elementary School is a private bilingual school located in the area as well.

Students are designated to attend A.E. Cross Junior High School (public), Vincent Massey Junior High School (public) and Ernest Manning High School (public).

Part of the service I provide my clients is verifying things like school districts for your children, if you have any questions about schools in Calgary's infill communities, call me anytime!
Killarney Demographics
 As a Calgary home buyer it is nice to know some of the statistics for the communities you are researching. Some interesting demographics for Killarney include (City of Calgary, Civic Census 2009)

Ages 24 and below – 24.7%
Ages 25 to 54 – 59.1%
Ages 55 and up – 16.2%
Average Household Income (Statistics Canada, 2006 Census) $53,799
Percentage of population with a High School Diploma or higher 85.3%
Ratio of residents who own their property– 54%
Ratio of residents who rent their property46%
Public Transportation
Public transportation is of no shortage in the area. With easy access to the University of Calgary via route 72 / route 73 and an abundance of main routes, you shouldn't have any issue finding your way around town.
Mount Royal University is also located close by just to the south of the area across Richmond Rd, with access made easy by the public transportation system running along the communities borders. Last but not least the new LRT is going to be walking distance for most of the area!
Killarney's Community Boundaries Are:
Northern Border – 17 Avenue SW from 37th Street SW to 17th Avenue

Eastern Border – Crowchild Trail from 17th Avenue SW to 33rd Avenue SW

Southern Border – 33rd Avenue SW from Crowchild Trail to 37th Street SW

Western Border - 37th Street SW from Richmond Rd SW to 17th Avenue SW
Questions about Inner City Calgary?

Call me direct anytime at 403-370-4180 or message me below using the contact form! It would be my privilege to help you accomplish your real estate goals and make sure your best interests are protected at all times.
Inner City Homes Resources
Search Killarney Home Listings Now!
[mrp account_id=21736 listing_def=search-325751 context=recip init_attr=sort~price_asc,ipp~10,lvs~gallery perm_attr=_theme~default,_wf~580]