Rosscarrock Calgary Inner City Community and Home Search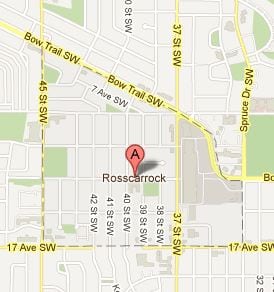 Rosscarrock is an inner city Calgary community located in the southwest quadrant between the neighbourhoods of Shaganappi and Westgate. This inner city community is less than three kilometres to downtown and has seen many new infill developments in the past decade.
Establishment for Rosscarrock dates back to 1954. Rosscarrock has a building designation allowing construction of semi-detached, single-detached and duplex residences only.
Rosscarrock Amenities and Services
Rosscarrock is home to Westbrook Mall where you will find a plethora of businesses including Safeway and Wal-Mart to name a few. 17th Avenue SW is also home to many businesses from east to west.
If you are an outdoor person take advantage of three of the best Calgary parks including Edworthy Park, Douglas Fir Trail and Glendale Meadows. Cross Bow Trail SW and reach the river parkway just down Spruce Cliff's escarpment for an enjoyable experience by the Bow River. For indoor recreation, travel west up Bow Trail to find Westhills Rec. Centre, while Killarney Rec. Centre is even closer than that!
Rosscarrock Schools
Rosscarrock is home to Rosscarrock Elementary

Junior high designation is Vincent Massey, while high school designation is to Ernest Manning, both of which are less than a ten minute walk from any point in Rosscarrock.

Mount Royal University is less than five kilometres away and University of Calgary can be accessed via bus routes going downtown to the LRT terminal.
Rosscarrock Demographics
Rosscarrock is a great community to live in with all the essentials for a comfortable living experience and more! Here are some stats from City of Calgary from surveys that a potential home buyer might find interesting (City of Calgary, Civic Census 2009)

Ages 24 and below – 29.3%
Ages 25 to 54 – 57.2%
Ages 55 and up – 13.6%
Average household income – $43,820 (Statistics Canada, 2006 Census)
Percentage of population with a High School Diploma or higher – 75.4%
Ratio of residents who own their property – 33.2%
Ratio of residents who rent their property – 67.1%
Public Transportation
Public transportation for Rosscarrock can be found on 17th Avenue SW and Bow Trail in the eastern region. Not to worry, there are multiple bus routes that serve different areas, covering a wide spectrum of city routes when commuting to and fro.The new West LRT Line is now up and running, making public transportation for Rosscarrock that much more convenient.
Routes servicing Rosscarrock or areas close by include Renfrew and Spruce Cliff, Signal Hill, Valley Ridge, Circle Routes, Coach Hill, Strathcona, Cougar Ridge, BRT North and West, 69th Street, Glenbrook, Killarney and 26th Avenue. Walking to the eastern region from the furthest west point should take a person no longer than eight minutes to reach the closest bus stop.
Rosscarrock Community Boundaries Are:
Northern Border – Bow Trail SW from 45th Street SW to 33rd Street SW

Eastern Border – 33rd Street SW from Bow Trail to 17th Avenue SW

Southern Border – 17th Avenue SW from 33rd Street SW to 45th Street SW

Western Border – 45th Street SW from 17th Avenue SW to Bow Trail SW
Questions about Calgary Inner City Homes?

Don't hesitate to call me today at 403-370-4180 for answers! I am looking forward to your call!
Calgary Inner City Home Resources
Search All Rosscarrock Real Estate Listings
No listings found.
Data was last updated August 8, 2020 at 05:30 AM (UTC)