Anejo Calgary Restaurant Review
September 17, 2012
By Cody Battershill
Anejo Calgary Restaurant Review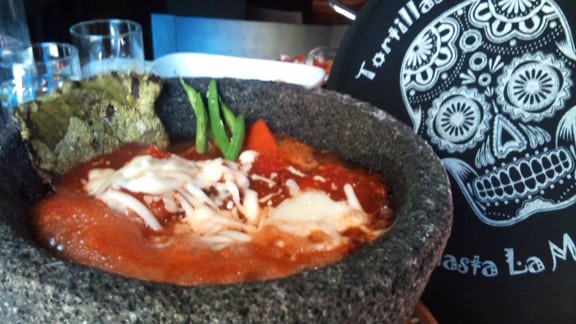 What comes to your mind when you think of Mexican food? Guacamole, corn, beans ... and cactus??? Yes, Anejo serves the unusual plant on their menu along with other traditional Mexican dishes.
The Food...

For starters, I couldn't resist the guacamole made up of five types of sea salt, four types of vegetables and two types of hot peppers. Our server mixed all the ingredients in front of us ensuring a fresh and flavourful masterpiece.
Tacos come in one, three or six to order. You can mix and match between short rib, pork, red snapper or chicken. Each filled with a cabbage slaw with three accompanying salsas from mild to hot depending on your heat level.
The molcajete – a stew-like dish either with beef or seafood – is served piping hot in a stone mortar and pestle. This main entree comes with sautéed green beans, red peppers and cactus as the accompanying side. So how does cactus taste like? Not so much like chicken but more like artichoke.
The Tequila...
Anejo's claim to fame is their rich selection of tequila. There is only one region in Mexico where tequila is produced. In fact, the country has strict rules and regulations over the production and manufacturing. The owners of Anejo took their time to research and connect with local producers to learn more about tequila. They brought back their learning's in hopes to embed a culture of showcasing tequila as a slow sipping alcohol that should be savoured, instead of devoured.
From the decor alluding to their travels, to the contemporary cuisine transcending typical restaurant fare, the owners of Anejo have successfully brought an authentic Mexican experience to Calgary. It is extremely busy on weekends so it's best to go during lunchtime when it's less crowded. Ole!

Whats your favourite dish at Anejo? Let us know below!
Anejo
#2, 2166 4th Street SW, Calgary, AB
Phone Number - 587.353.2656