Calgary Restaurant Review – Boxwood
March 2, 2012
By Cody Battershill
Boxwood Restaurant Review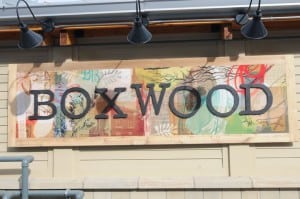 Everything about this intimate restaurant puts me at ease. From the moment you walk in you almost feel like you are in another city, with the beautiful memorial library in the back drop and the trees lit up in the night you feel nothing but amazing.
Now for the food, the lunch menu and the dinner menu do vary but one thing remains the same each dish is made to Perfection!!
Our Orders
Tonight we started sparkling water (for only $1.00). For an appetizer we had the Red Lentil hummus and spiced crackers; EVERYTHING about this appetizer is amazing it's almost as if you can't get enough! Dinner time is A La Carte and worth every cent! We had the Steel head trout and Roasted chicken, with a side of the warm lentil salad.
After being more than satisfied the meal was topped off with a fresh baked oatmeal chocolate cranberry cookie. Everything about Boxwood leaves you wanting more. Time and time again I crave not only the food but the atmosphere of this little piece of perfection located in downtown Calgary.
Have you been to Boxwood? What did you think? Leave a comment, we want to hear from you
Boxwood
Address - 340 13th Avenue SW, Calgary, AB
Phone Number - 403-265-4006