Calgary Restaurant Review – Holy Grill Part 2
March 7, 2012
By Cody Battershill
Holy Grill Restaurant Review Part 2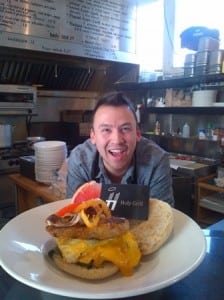 The Holy Grill is a one of Calgary's best places to eat. Period. This is actually my second review, you can find the first review here. I placed my order at the front counter with the kitchen staff, who were very friendly and attentive, wait actually nice would be an understatement. Nick, Andrew, John and Glenn make a point to know everyones name and treat everyone like a friend. Looking around I noticed some unique art pieces for sale that added a nice touch to the environment. I had the traditional eggs Benedict while my friend had the salmon style Benedict.
We switched with each other one for one so we could experience both. The traditional eggs Benedict was absolutely delicious, up there with some of the best eggs benny's around. The salmon eggs benny was put on top of some greens that added a nice flavour to the salmon. The salmon was definitely the best part because it was so flavorful that it felt like it had melted in my mouth. Hash browns were very crispy and tasty. The staff at the restaurant made sure we were well taken care of during our meal and were extremely friendly and humorous. Another nice touch is the self-serve water by the front counter great for impatient people like me who find that the 250mL cups provided in lots of restaurants just isn't enough and, of course, disappears down my throat quickly. Servers can't keep up with my thirst.
The Holy Grill is a good place to stop in for quick bite to eat in the downtown Calgary area with parking available immediately beside it. Stop by The Holy Grill today to see what all the hype is about as I recommend it to anyone who loves a good meal for a good price!
827 10th Avenue SW
Ph# - 403.261.9759
Hours –
Monday to Friday – 7:30 AM to 4:00 PM
Saturday – 10:00 AM to 4:00 PM
Sunday - Closed