Calgary Restaurant Review – Rics Grill
February 29, 2012
By Cody Battershill
Ric's Grill - Steak and Seafood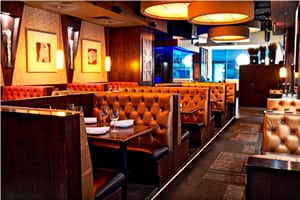 Ric's Grill is an inner city restaurant with a well-varied menu including seafood, steak, chicken, ribs and other pasta creations. The restaurant has a smooth, calming atmosphere with a contemporary feel. The coloring template is a mix of browns, yellows and reds that combine nicely and make you want to indulge in something delicious.
Lighting is soft but appropriate and the music is at a level that adds privacy to your conversation but doesn't drown it out either. The Filet Mignon was delicious, with a succulent taste that made me definitely put a future trip back to Ric's Grill in the agenda.
Service was professional, but be prepared to be a little patient. The place wasn't busy at all and it seemed like it took longer than it should to receive our drinks and bread appetizer. Overall, i would recommend the dining experience at Ric's Grill!
Open 11am-10pm Monday to Thursday and until 11pm on Friday and Saturday and 9pm on Sunday.

Have you been to Rics Grill? Leave a comment and let us know what you thought!
Ric's Grill
Address - 1436 8th Street SW, Calgary, AB
Phone Number - 403-269-7427