Calgary Restaurants – Thomsons
April 2, 2011
By Cody Battershill
The Breakfast Buffett is Just the Beginning at Thomsons
Breakfast Buffet: $23
112 8 Avenue Southeast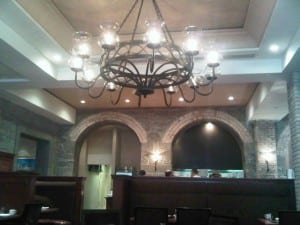 (403) 537-4449
Located in the beautiful Hyatt Regency Hotel downtown Thomsons is unique not only in the quality of its food, but also in its distinct heritage decor of sandstone and cowboy inspired artwork. Another bonus to keep in mind is if you park in the Hyatt parkade you can have your parking ticket validated by your server and park for free! (Space permitting) The breakfast buffet is run 7 days a week starting at 6:30am and on Sundays it segways into a brunch service at 10am.
The Bottomless premium Tropicana juices are refreshing and the coffee is good. You have a wide selection of food options including: Eggs Benedict, Chef Omelette Station, Fresh Cinnamon Buns, Steel Cut Oatmeal, Cold Cereals, Fresh Fruit, Salmon Lox, Home made Hash browns, Canadian Smoked Bacon & Sausage, Free Range Scrambled Eggs, Yogurt, Various Baked Goods, Cheese Selection, a Yogurt Parfait Station  and more.

In addition to breakfast and Sunday brunch, Thomsons also serves lunch and dinner. There are also special events includingtherecent candle light dinner for earth hour on March 26th and an upcoming special easter brunch.
This is the best breakfast buffet I have ever had. Have you ever had a memorable breakfast buffett? Leave a comment, I would love to hear from you!