Farm Calgary Restaurant Review Part Two
October 25, 2012
By Cody Battershill
Farm Calgary Restaurant Review – Part Two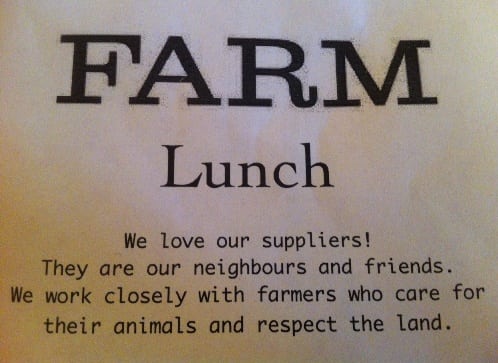 Welcome everyone to my second Calgary restaurant review for FARM. It's that good!
Conveniently located on 17th Avenue SW, Farm is a great place to stop in at for a quick, delicious lunch when the schedule is hectic and you find yourself on or close to the popular inner city avenue. Every menu item is quick to make and made fresh, making their sandwiches some of the best I have had in the city and putting Farm down as one of our Best Calgary Lunch Spots.
Atmosphere
Farm lives up to its name with its country wall paper, finishings and decor. Dim lighting and an open kitchen makes you feel like you are truly in the dining room out at the Farm. One thing about the place, its seating is limited, so try coming a bit before or after busy hours for immediate service.
Creative decor and exceptional service combine to make you feel ready to eat!
Food
Our server was very helpful in choosing what to eat. Her recommendation was the sandwich and soup special combo for $16, which includes:
Winters Farm Sandwich – turkey, thyme, aioli, cranberry sauce and house stuffing – I couldn't believe how good this sandwich was. It reminded me of the lovely turkey cranberry subs my grandmother makes except with fresher and healthier tasting ingredients. Sorry grandma, but this one is better than yours!
Southwest Chicken Chili – heart homemade chili with beans, lentils, tomatoes and chicken for all I could see. This chili is not too spicy or too bland and compliments the absolutely delicious sandwich very much so.
With a coffee and green tea, the bill was very affordable for two at $42 bucks.
If you are on 17th Avenue and 10th Street SW, be sure to check out Farm. If you get there while the turkey lasts, be sure to get the Winters Farm Sandwich...it's to die for!
Check out our Farm Calgary Restaurant Review Part One for more info!
Farm
Address - 1006 17th Avenue SW, Calgary, AB
Phone Number – 403.245.2276