Haru Sushi Calgary Restaurant Review
March 24, 2012
By Cody Battershill
Haru Sushi Bar - Calgary Restaurants Review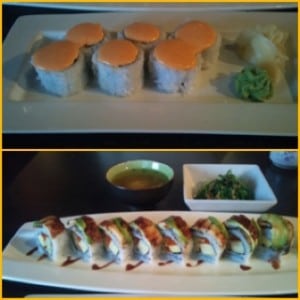 Tucked in the far corner of our city in Springborough lies a hidden sushi gem called Haru.
Haru has embraced the contemporary atmosphere utilizing only beige and chocolate brown in its interior design. Yet there is still a hint of traditional Japanese accents such as the cherry blossom trees. When the sun sets, the interior lighting forms a warm and slightly mysterious ambience.
I started off with the wakame seaweed salad with sesame sauce. Incredibly fresh tasting without the usual overwhelming tartness which is found in most salads.
The crunchy tuna sushi roll filled with little bits of tempura batter added the right bit of texture. The sriracha mayonnaise – a balance of spicy and sweet – was definitely the cherry on top of this dish.
Feeling adventurous, I also tried the Dragon Roll consisting of tamago (Japanese omelette), cucumber, fish roe wrapped with avocado and unagi (freshwater eel). After staring at the work of art in front of me, I finally took a bite and was wonderfully pleased with the freshness of the fish.
Haru also has another location in McKenzie Towne so be sure to check out either location.
Haru Sushi Springborough
128, 30 Springborough Blvd. SW
Calgary AB, Canada T3H 0N9
Phone Number 403-457-2211
McKenzie Town
150, 35 McKenzie Towne Ave. SE
Calgary AB, Canada T3Z OS8
Phone number 403-457-5880
Calgary has some amazing sushi restaurants! Dont miss The Best Sushi in Calgary!