OEB Over Easy Breakfast Calgary Restaurant Review
March 27, 2012
By Cody Battershill
OEB Over Easy Breakfast Calgary Restaurant Review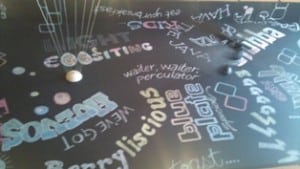 If heaven and hell (or good and evil) intersected on earth, it would be at Over Easy Breakfast (OEB).
Brunch is a quintessential meal for most Calgarians so it's no surprise you will see a line up at most brunch hot spots.
OEB is no different. It is definitely worth the wait. Try it once and you will be forever a faithful follower.
OEB has been serving Calgary since October 2009. Chef Mauro Martina is dedicated and determined to work with local producers and using local ingredients. That passion shines through with the use of free-run eggs, fresh local meat and all-natural bread with a gluten-free option.
The decor is best described as contemporary funky retro. Look up at the chalkboard ceiling and be entertained by some interesting sayings.
I've tried many items including the smoked salmon omelette, TLA - tomato, lettuce and avocado sandwich (a MUST TRY for avocado lovers) and the Uova alla Toscana – two poached eggs with oven roasted cherry tomatoes and smoked ham on rye.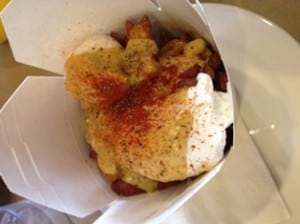 The infamous Soul In A Bowl – their version of a breakfast poutine – consists of herb potatoes, cheese curds, bacon fat topped with two poached eggs packaged drizzled with hollandaise. This dish came in a tall cardboard take-out box – definitely a gold star for presentation. Yes, it's as sinful tasting as it sounds. No wonder it's also known as Sin In A Bowl.
Most of the dishes are accompanied by herb potato wedges cooked in 100% organic duck fat. The chef explained duck fat is preferably used over modern-day modified cooking oils. I tried to get him to reveal the type of herbs used but he wouldn't divulge his secret ingredients.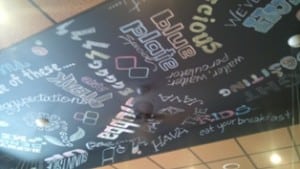 I decided to venture to the sweet side and try the special of the day ... Lemon Meringue French Toast. This mile high concoction is made of two French toasts smothered with homemade lemon curd and fresh strawberries and blueberries topped with a perfectly made meringue. Each little morsel is sweet and tart and chewy and sticky hitting a multitude of flavours. This is what I call heaven on a dish.
OEB's motto is "where breakfast classics become favourites, where eggs are not just eggs and where we do not just talk about good food ... we create it." They don't have to preach to the converted.
Over Easy Breakfast Address: 824 Edmonton Trail NE
Over Easy Breakfast Phone number : 403-278-EGGS (3447)
Hours: 7:00 AM – 3:00 PM