Peppino's Kensington Calgary Restaurant Review
March 14, 2012
By Cody Battershill
Peppino's Gourmet Foods and Deli in Kensington - Calgary Restaurant Review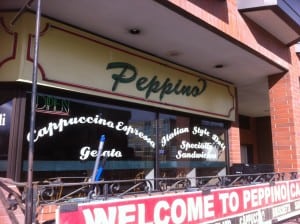 Peppino's is a family run restaurant in the heart of Kensington. I have been going to the shop for delicious Italian style sandwiches for many years. It's time to give back to Peppino's through a review that reflects upon their utmost level of professionalism and commitment to making delicious, gourmet food. This is one of my favourite quick lunches and favourite italian deli's in Calgary!
The menu size of Peppino's is impressive to say the least, not to mention the quality of homemade gourmet pastas, sausages, gelato ice cream and other tasty imported foods from Italy. Sure, you might pay more for these particular items but I have never regretted doing so. They have always left a smile on my face after using them in the kitchen. A variety of homemade pastas, stuffed and regular style with various meats, cheeses and other secret ingredients can be purchased for decent prices that are competitive with the nearest grocery store. Don't forget to try some of their green and black olives, yummy! What you might spend on some of the imported goods, you will gain it back if you decide to try the deli style food served at Peppino's such as sandwiches and pasta meals. I have never had an issue with any of the food because the family who owns and operates Peppino's are committed to delivering the same amazing food each and every time, something that I cannot say for other sub-sandwich delis.
This time around I had a Pollo Al Pesto, a chicken breast sub-style sandwich with some special ingredients unbeknownst that made for a delicious sandwich! The chicken was done just right without being too dry. I definitely need some of that special sauce Jo used on that sandwich. It's just that good! The Vesuvius, Capicollo, Pollo Al Pesto, Meatball and Surprise; these are usually what I pick when eating their subs. Each one has its own unique attributes that makes for a delicious lunch every time. The Meatball is unmatched by any sandwich place in Calgary, I assure you. After lunch hit up the home made gelato ice-cream, or buy some small tubs to take home to try later. Mango, mint, vanilla, coconut and chocolate are examples of some of the scrumptious flavours Peppinos has to offer. If you're not looking for a sandwich, try a homemade pasta dish with the pasta and sauce of your choice.
Peppino's Gourmet Food and Deli is an example of one of the last family-run businesses in Calgary that hasn't bowed down to large chain companies. Peppino's sandwiches are actually the same price as any sub you would get at any other place such as Subway or Mr. Sub. Why not head into Peppino's the next time you're in the Kensington area and check out what all the hype is about? I recommend Peppino's to everyone looking for some gourmet deli food to eat in or to take home for dinner.
Peppino's @ 1240 Kensington Road NW, Calgary, AB
Phone number - 403.283.5360