Pho Dau Bo Calgary Vietnamese Restaurant Review
June 23, 2017
By Cody Battershill
Calgaryism Review of Pho Dau Bo Vietnamese Beef Noodle House

I always take the opportunity to go to and experience pho restaurants in Calgary I've never been to before. This time around I found myself in the southeast when I started to crave a delicious bowl of Vietnamese noodle soup - sometimes you just got to indulge in your cravings!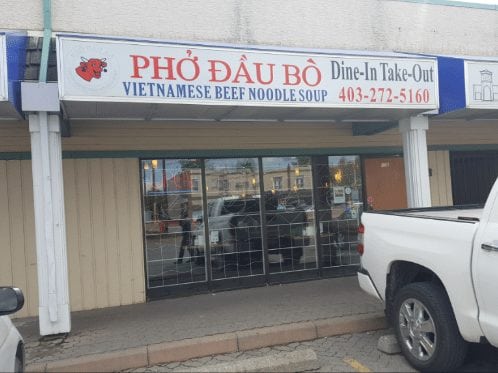 With so many to choose from along 17th Avenue SE, and at this strip mall in general (there's also Noodle World and Bun Bo Hue here), I was glad that I chose to stop in at Pho Dau Bo Vietnamese Beef Noodle House for lunch. Here's why:

*10 rated as best
Atmosphere & Service
Inside of Pho Dau Bo Vietnamese Beef Noodle House you'll find a contemporary dining atmosphere with lots of tables and space in between. Despite the restaurant being quite busy, our server came and served us tea almost immediately after sitting down. Water followed soon after. She was very helpful, polite and quick to tend to our needs as customers.

My lunch partner and I were quick to look at the noodle soups and both chose peanut pho beef sate (choice A on the menu). To our delight, the dish was served in a eye-popping green bowl that made this pho look like nothing we'd ever had before. The color of the bowl most definitely was foreshadowing of things to come.
Our Orders
#A - Pho Sate Ga Hoac Bo Hoac Do Bien - $12.00 (large) – spicy sate noodle soup with your choice of chicken or beef or seafood (peanuts)
Pho Dau Bo's take on the peanut beef sate soup was unlike any other I've tried in Calgary. Served with all the regular ingredients – rice vermicelli noodles, beef strips, white onion, green onion with lime, chili pepper, coriander leaf (cilantro) and bean sprouts on the side – the broth had a delightful mix of sweet, spicy and peanut tastes that blended seamlessly with the added toppings.

Usually I don't slurp up all the soup out of my pho bowls, but on this occasion the delicious taste of the broth made it too tempting to not do exactly that. If you like peanut sate soup, this one's for you!

Pho Dau Bo is one of the best Vietnamese noodle houses I've been to in Calgary. If you're on International Avenue (17th Avenue SE) and somewhere near 50thStreet, I highly recommend stopping in to try their delicious peanut sate soup!
Pho Dau Bo Vietnamese Beef Noodle House
Address – 4909 17th Avenue SE, Calgary, AB
Phone Number – 403-272-5160
I Love Calgary
For more of the best local restaurants, events and everything else to do with YYC, we invite you to join us at Calgaryism on Facebook, Instagram and Twitter – stay updated via your live social media feed today! We hope to see you there!