Best Soup in Calgary: 10 Bowls You Must Try Now!
January 10, 2020
By Cody Battershill
Looking for the Best Soup in Calgary?

Winter is here and there's no better remedy for chilly weather than a hot bowl of the best soup in Calgary. Over the past few months in particular I've been on a huge soup-binge looking to warm my soul up from the chilly weather outside, going to all sorts of restaurants in search for the best bowls around.
What I've found is an incredible selection I just have to tell you about because they're that delicious. Here's my list of the best soup in Calgary, and stay tuned for more additions to come in the near future!
Spicy Sausage Stew - Don Day Korean Restaurant
Address – 909 7th Avenue SW
Phone – 403-718-0358
Website – donday.ca

The spicy sausage stew (it's really a soup) at Don Day Korean restaurant is meant for two, but I'm no stranger to finishing it on my own every now and then - it's just that good! This best soup / stew in Calgary comes loaded with ham, sliced sausage, vegetables (onions, mushrooms, lettuce, etc.), kimchi and ramen noodles in a special spicy house-made broth that's so yummy, you'll be addicted from the first sip.
Chili Goma – Shiki Menya
Address – 909 7th Avenue SW
Phone – 403-718-0358
Website- shikimenya.ca

The chili goma is all the hype at Shiki Menya in Bridgeland, one of the best ramen restaurants in the city that serves only 200 to 250 bowls each day. Ingredients include Tokyo negi, spicy chopped pork with veggies, chili oil, sesame, peanuts and dried chilis. This best soup in Calgary brings the heat with its rich flavoured broth, so make sure you're prepared for it with drink on hand!
Lemon Turkey Dill – Primal Café & Soup Company
The lemon turkey dill soup at Primal Soup Company is one of the most unique on our list of best soups in Calgary. Enjoy its perfectly mixed chicken and turkey broth which is slightly thickened by a touch of milk and loaded with onions, celery, carrots, peas, corn, basmati rice and turkey breast. Lemon and dill make the flavouring of this bowl absolutely superb and a must try for anyone who loves their soups.
Tonkotsu Shoyu Ramen – Tekkotsu Ya Ramen
Located in the deep southeast of the city, Tekkotsu Ya Ramen serves up some of the highest quality Japanese-style soup for the best price. The Tonkotsu Shoya in particular was very good with its not too sweet or rich broth and its perfectly cooked chasu. We highly recommend making the trip to this hidden gem.
Wor Wonton - Kings Restaurant
Known as "the home of wor wonton," fully customize your meal with a choice of chicken, pork or vegetable-filled wontons, selection of noodle and veggies such as broccoli, carrots and corn to name a few at King's Restaurant on Edmonton Trail NE. We made our own, and loved it. Most bowls go for just over $10 as well, but expect to pay a bit more for customization which is well worth it for a bowl of the best custom-made soup in the city!
Pho Sate Soup – Pho Dau Bo Vietnamese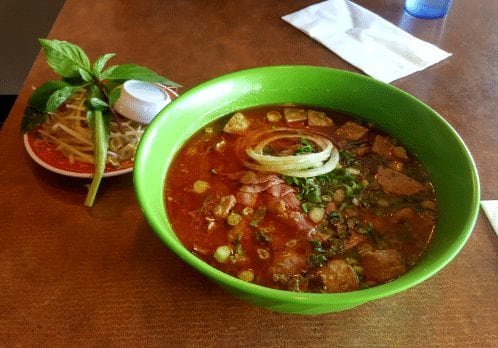 Who hasn't heard of Pho Dau Bo?! If that's you, then you must plan to visit one of the best Vietnamese pho restaurants in the city! We absolutely love the spicy beef peanut sate soup which has some serious kick to it but is mellowed out by a sweet, peanuty taste. If you're really in for the full pho sate experience, try crushing up a few Thai chilis and mixing it into your bowl.
Tortilla Soup – Tres Marias Mexican Food Market
Address – 3514 19th Street SW
Phone – 403-243-5335
Website – tresmarias.ca

Tres Marias is a hidden gem in the Marda Loop area that serves up one of the best tortilla soups in Calgary. For under seven bucks you get a decent sized bowl with a sweet but spicy tomato broth topped with goat cheese, sliced avocado and nacho chips for added crispiness. This place also has a variety of other home-made Mexican cuisines to try as well!
Soto Ayam – Indonesian Kitchen
The Soto Ayam is a best soup in Calgary you'll find at the Indonesian Kitchen on 17th Avenue SE. Loaded to the brim with veggies, ingredients include bean thread noodles, bean sprouts, chicken breast and boiled eggs in a smooth coconut milk accented broth with hints of lime, lemon grass, turmeric and ginger flavours.
Bulgogi Stew – Don Day Korean Restaurant
Address – 909 7th Avenue SW
Phone – 403-718-0358
Website – donday.ca

Don Day's beef bulgogi stew might even be better than the spicy sausage. We say that because of the heartiness and healthiness of the ingredients and the fact that it's easier on your stomach. The broth flavour was more sweet and the dish itself was loaded with a ton of veggies that made it quite filling. This could very well be the absolute favourite of mine on my list of best soup in Calgary.
Sausage Minestrone - Spolumbo's Fine Foods & Deli
Address – 909 7th Avenue SW
Phone – 403-718-0358
Website – spolumbos.com

You won't find a better bowl of minestrone soup for a better price anywhere in the city. You also won't find many delis with as good of sandwiches or such a huge selection of take-home goodies like potato salads and meats either. As one of the most reputed homegrown brands around, Spolumbo's is always a fair bet for some of the best soup and sandwiches in Calgary.
What's Your Favourite Soup in Calgary?
Let us know, and we'll do our best to add it to our list of best soup in Calgary! Also check out the rest of our Best in Calgary lists, and be sure to join us at Calgaryism on Facebook today. We are looking forward to seeing you there!