Calgary, Alberta – "The Heart of the New West"

The City of Calgary is situated in the Western Canadian Province of Alberta, in the foothills of the Rocky Mountains with its centre located at the junction of the Bow and Elbow Rivers.
In 1875 the settlement that was to become Calgary was established by the Northwest Mounted Police. Its purpose was to protect the fur trade and the western plains from whiskey traders coming from the south.
Originally named Fort Brisebois after a NWMP Officer Ephrem Brisebois, Calgary got its name a year later in 1876 from Colonel James Macleod who named the outpost after the Calgary area on the Island of Mull in Scotland. Learn more at the History of Calgary.
Calgary also has beautiful weather, with the most days of sunshine per year than any other major Canadian city. Learn more at Alberta has the Best Weather in Canada!
Calgary is situated in a highly desirable location only an hour's drive from some of the most beautiful Canada National Parks around such as Banff National Park, Kananaskis Country, Jasper National Park and many more.
As a matter of fact, the city is a reasonable driving distance away from more than 5 world class ski resorts, lots of amazing lakes, the United States border and so much more.
More Fun Calgary Facts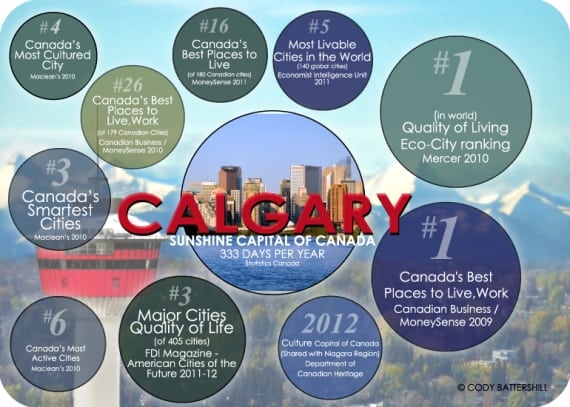 Calgary, Alberta is…
Large: 848 square kilometres (327.4 square miles)
Diverse: About 25 per cent of Calgarians are foreign-born. Calgary is Diverse.
Accepting: There are close to 120 languages spoken in the city. Calgary is Multicultural.
Green: Calgary has over 7,500 hectares (75 square kilometres) of parkland and public green spaces, as well as the longest paved urban pathway system on the continent. It runs for more than 700 kilometres and is easily accessible from virtually anywhere in the city.
---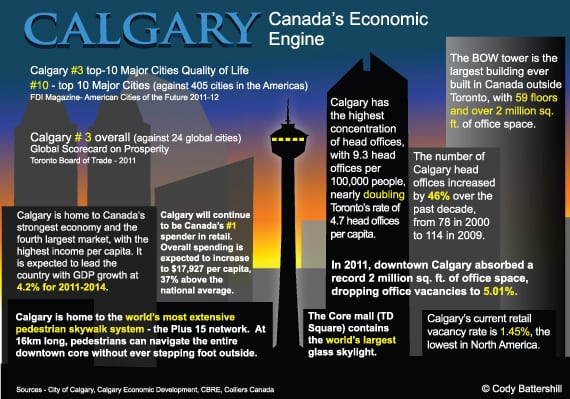 Ranked as the
17th Top Global Financial Centre of the World
One of the most downtown focused cities in North America with 230,000 people working in the city centre
Experiencing another downtown development cycle with millions of square feet under development or to be announced in 2013
Home to high average wages and an abundance of job opportunities
---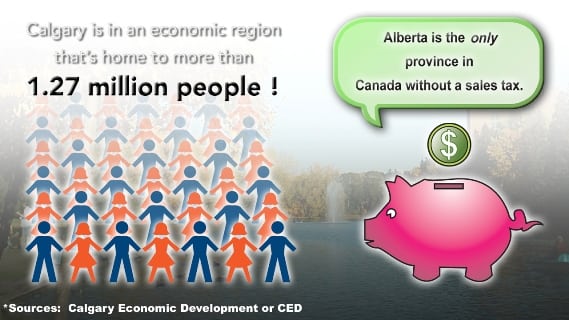 More than 12 million passengers a year fly in and out of CalgaryCalgary is community-minded: there are
More Volunteers Per Capita
than any other major Canadian city
Calgary Public Transit now carries more than 95 million passengers a year.
Fish Creek Provincial Park is Canada's largest urban park, stretching 19 kilometres in length
---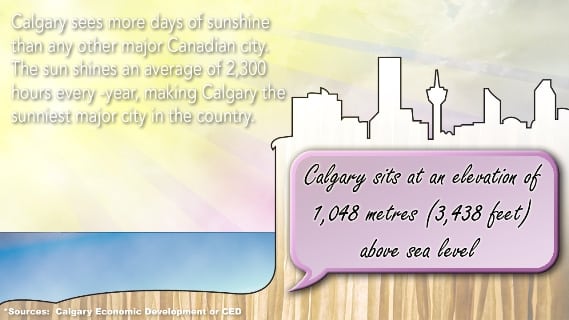 Has 18 km's of pedestrian walkways & 63 bridges in Calgary's +15 system making it the largest of its kind in the world. The first +15 bridge was built in 1970's linking the Westin Hotel to "Calgary Place" across 4th Avenue. It soon became known as "Plus 15 " because it is roughly 15 feet above the ground.Continues to be the western head office capital of Canada – Calgary has the
second highest concentration of head offices in Canada
and would be the head office capital of Canada on a per capita basis
---

Check out these Calgary Articles!!!